It's been four months since MTV fired Jenelle Eason's husband David Eason from Teen Mom 2 after he went on a homophobic and transphobic Twitter rant just days after creating an account. The 30-year-old reality star is apparently still bitter as he unleashed on MTV in a lengthy Facebook post on Saturday in which he says MTV is "a hypocritical liberal network" that keeps "racists, drug addicts and potential rapists on [their] shows," before citing examples like Catfish host Nev Schulman, reported new Teen Mom OG cast member Cheyenne Floyd, and Teen Mom: Young and Pregnant star Jade Cline.
"WOW MTV Ive kept my mouth shut for too long!" David began. "MTV is such a hypocritical liberal network that you still keep racists, drug addicts and potential rapists on your shows as long as it meets your political beliefs? (Yet you are against gun rights which protects my family from those kind of people)"
David then cited specific examples, starting with Real World and The Challenge star Cheyenne Floyd, who has reportedly signed on to replace Farrah Abraham on Teen Mom OG. "I'm sickened to hear that Cheyenne Floyd said she hates white people and wants to kill them all!" David wrote, referencing some controversial tweets made by Cheyenne (examples below). "WELL HOLY SH!T I'm the bad guy even though I never said I hated anyone or wanted to kill them. Yet I received death threats from you morons?"
In case you missed it, Cheyenne came under fire for Twitter activity that included a tweet about watching the movie The Help as well as a grimace-inducing retweet. "My mom said I can't see The Help, she knows I already have a problem with white people," Cheyenne tweeted in September of 2011. Her mom's decree didn't stop Cheyenne from watching the film, however. "Last night I saw it and I wanted to kill every white person I saw," Cheyenne tweeted, adding three gun emoji.
A couple months later, Cheyenne retweeted this statement from a fan: "@CheynotShy and @originallyD are the only nazi-loving, black power-having, 'kill-a-white-baby-if-I-could' people I can accept and adore."
David continued: "Come on people, MTV still works with Nev Schulman from Catfish even though he tried to sexually assault his timid vulnerable cast members!" This statement is in reference to allegations of sexual harassment made against Nev by former cast member Ayissha Morgan. MTV halted production of Catfish while a third-party investigation was conducted. The charges were found to be "not credible and without merit" and production on the ninth season of the show has resumed.
A commenter pointed out to David that "Nev has been cleared" in the comments section of his post, but apparently David hadn't heard the news. "How was he cleared?" David asked. "Because he hasn't been charged yet? What have I not been cleared of, I never did anything to anyone."
[In addition to the Nev Schulman comment, David responded to one other. "Well damn.. I wish Roseanne was on MTV! lol then she would still be on TV! ?" someone wrote. David replied: "Nah, you cant be racist and white at the same time."]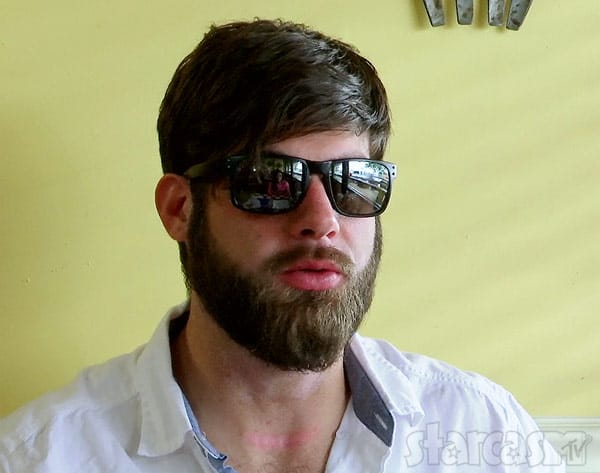 Next up on David's hit list was Teen Mom: Young and Pregnant star Jade Cline, who recently posted and deleted an Instagram bathroom selfie in which you can clearly see a rolled up dollar bill, a line of white powder, and a rigid ID on the counter. David posted a screen cap of our story about the picture and wrote: "Not to mention Teen Mom young and pregnant cast member Jade Cline who took a picture with cocaine on the table in her selfie!"
This comment had the "hatters" collectively shaking their damn hatted heads as David's wife Jenelle has remained on Teen Mom 2 despite an extensive history of drug abuse.
"My first trip was amazing," Jenelle recalled in her memoir Read Between the Lines: From the Diary of a Teenage Mom about the first time she shot up with heroin. "Before I knew it, I was shooting up four or five times a day. I was hooked." Jenelle later added: "The drugs always made the pain go away. They didn't turn on me or betray me. I guess heroin was my first steady, dependable lover. It gave me what I needed to live and I gave it my life."
David wrapped up his tirade by calling out Teen Mom 2 producers, including Executive Producer Morgan J. Freeman by name. "Get your head out of your ass MTV, I'm not the problem YOU ARE!" David declared. "I mean why else would the head producers be the ones spreading all the lies on the internet with media outlets? Huh Morgan? Just for the record THE VIEWS, OPINIONS OR DEPICTIONS OF MYSELF BY MTV DOES NOT REPRESENT MY BELIEFS OR MORAL VALUES AND STANDARDS!"
For those of you needing a refresher of some of the things that David Eason tweeted that caused MTV to fire him, here is a brief excerpt of his Twitter interactions (Click here for the full Monty):
DAVID: No, you are wrong. Please tell me sir, how do you propose we make all the people in America start being better parents? Or are you a monkeys uncle? ?

@salpollock: For you I would limit exposure of unnecessary weaponry around the house (stop glorifying assaults rifles) teach your children to be aware of their surroundings at school. Ask them how the day went. Teach them how to solve problems without calling people names or using force.

DAVID: And just what makes you think you have the right to tell me how to be a parent? Because you think you know me? Lmao why don't you go tell the homo and transgender parents to start teaching their kids better morals? Oh I forgot thats supposed to be normal ?

@maxine15m: Who are you to say what's normal or what's moral? Are you going to teach your children to hate gay and transgender people?

DAVID: No, Im going to teach them not to associate with them or be that way… If you lay down with dogs you get up with fleas
Above is the statement Jenelle issued after David's firing, and she has continued to defend her husband this week. When one tweeter suggested that David might be able to get back on the show if they were able to demonstrate that David "isn't a homophobe," Jenelle responded:
I don't get if someone was raised with certain morals, values, and standards… a very Christian man… why would you try to push him to think the opposite just because you don't agree?! F**k you.
Jenelle later tweeted this statement:
I will stand by my husband and his opinions until the day we die. I'm sorry he offended anyone in the past, but he doesn't HATE anyone. Never said that word. We all have opinions and sometimes they can be a**holes, everyone has one. Hanging on every word ever spoke. #Crazy
Meanwhile, it is still unclear if Jenelle Eason will be back for the new season of Teen Mom 2 or not. As we recently reported, MTV has renewed the show for a ninth season, but Jenelle is currently the only cast member still holding out as she desperately tries to negotiate her contract to allow David to be with her (even if he isn't on camera) while she is filming — both on location and during Reunion tapings.
One tweeter said that if Jenelle was not on the new season she would not be tuning in. "We will see! " Jenelle responded. "So far not looking pretty. ?‍♀️" she added. Another person responded by suggesting that if Jenelle does not come back that she should have her own show. "We will see," wrote Jenelle. "I have ideas."
Asa Hawks is a writer and editor for Starcasm. You can contact him via Twitter, Facebook, or email at starcasmtips(at)yahoo.com