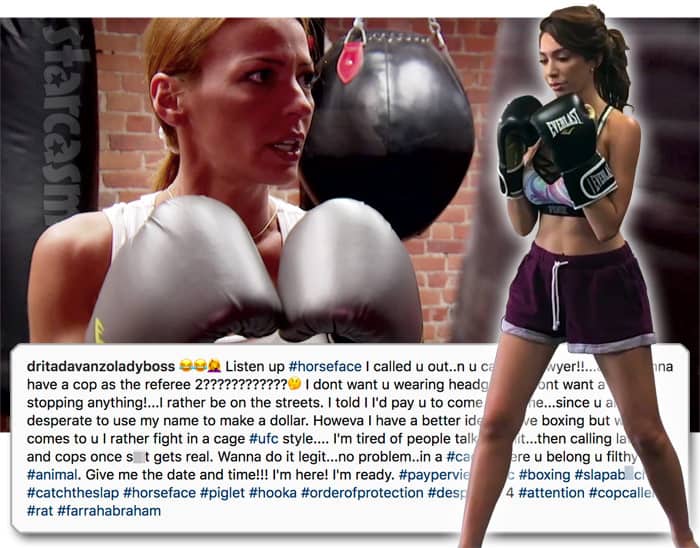 Former Teen Mom star Farrah Abraham revealed this week that she has signed on with celebrity boxing promoter Damon Feldman, and named former Mob Wives star (and current nemesis) Drita D'Avanzo as a potential opponent. Drita caught wind of the challenge, and not only is she OK with entering the boxing ring with Farrah — Drita wants it to be a UFC cage match!
Drita shared a video of Farrah throwing down the gauntlet on Instagram, and answered the challenge in true Drita fashion. She began by laughing off Farrah's challenge with a few emojis, then called Farrah out over the ladies' recent social media feud after they co-hosted a strip club opening in Atlantic City together.
Here's Drita's full post:
???‍♀️ Listen up #horseface I called u out..n u called a lawyer!!…are u gonna have a cop as the referee 2????????????? I dont want u wearing headgear!..i dont want a referee stopping anything!…I rather be on the streets. I told I I'd pay u to come meet me…since u are so desperate to use my name to make a dollar. Howeva I have a better idea…i love boxing but when it comes to u I rather fight in a cage #ufc style…. I'm tired of people talking sh*t…then calling lawyers and cops once shit gets real. Wanna do it legit…no problem..in a #cage where u belong u filthy #animal. Give me the date and time!!! I'm here! I'm ready. #payperview #ufc #boxing #slapabitch #catchtheslap #horseface #piglet #hooka #orderofprotection #desperate 4 #attention #copcaller #rat #farrahabraham
As anxious as Drita is to get in the ring (or cage) with Farrah, she may have to get in line! Teen Mom 2 star Kail Lowry responded to Drita's post by revealing in the comments section that she would like to go a few rounds with Farrahnda Rousey! "I'd fight Farrah in a ring," she wrote, adding a string of three ??? emoji.
And Former 16 and Pregnant star Lindsey Nicholson, whose kickboxing training was featured on her episode, has also expressed interest in some sanctioned sparring with Farrah Abrahamed Ali:
Can I please box her ?! ???? https://t.co/2zSEvlZIdL

— Lindsey Nicholson (@LilMamaLinds) July 24, 2018
Lindsey's 16 and Pregnant co-stars (and eventual Teen Mom 3 cast members) Mackenzie McKee and Katie Yeager seemed to be all for Lindsey getting a shot at the Teen Mom title:
How fun would that be?

— Lindsey Nicholson (@LilMamaLinds) July 24, 2018
You know me well? https://t.co/oLM4TAe4BD

— Lindsey Nicholson (@LilMamaLinds) July 24, 2018
So far, there has been no response from Farrah's biggest Teen Mom rival, Amber Portwood, who has a good bit of Krav Maga training already.
So: Who would you most like to see get in the ring with Farrah?
UPDATE – We now have a time and place for Farrah's first celebrity boxing match! Promoter Damon Feldman just shared the first promo poster for the event, which will take place on November 3 in Atlantic City! Here's the poster:
Just yesterday, Damon posted that they are still actively seeking an opponent for Farrah. "Looking for opponent for @farrah__abraham for big Celebrity Boxing match 'Fight against Bullying'" he wrote, clarifying that it needs to be a woman and adding that they will make a "big offer" to the right opponent. He asked that interested parties should DM him via Instagram.
UPDATE – Here are some responses to this post on social media, including Farrah's dad Michael Abraham, Lindsey Nicholson, and…Chelsea Houska?!
I'd box @F1abraham any day, but I'd much prefer to take her down mma style ? @KailLowry you with me? Lol https://t.co/7YWeqAFBLc

— Lindsey Nicholson (@LilMamaLinds) July 28, 2018
??? I'm in

— Kailyn Lowry (@KailLowry) July 28, 2018
@DritaDavanzo How can we get you on coffee convos podcast??

— Kailyn Lowry (@KailLowry) July 28, 2018
To bad we won't see Drita fight she is like me… way to old "age group" and she is not one to promote anti hate. And Kail is in a lot higher weight class so that won't happen either lol! https://t.co/jd217WS18G

— Michael Abraham (@ekimabraham) July 28, 2018
Chelsea I have the highest respect for you and your entire family. No it was not meant as low blow towards Kail… it's a realistic statementbacked by fact that in any fighting event weight classes are real and used as competitive classes.

— Michael Abraham (@ekimabraham) July 28, 2018
Asa Hawks is a writer and editor for Starcasm. You can contact Asa via Twitter, Facebook, or email at starcasmtips(at)yahoo.com