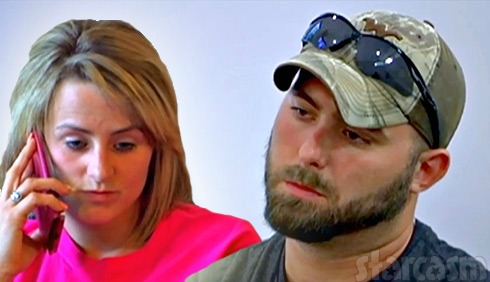 At least in the tabloids, Leah Calvert's custody battle with ex-husband Corey Simms took a backseat in recent months. Nonetheless, they've been working on it and just reached an agreement for the care of their twin daughters.
As viewers saw on the latest season of Teen Mom 2, Corey filed for full custody of Ali and Aleeah because he was frustrated with Leah's continued requests for more money. Leah was heartbroken by the request and countered by claiming Corey wasn't going along with the medical treatment suggested for Ali. With help from their lawyers at a Dec. 8 hearing, Leah and Corey worked out a schedule with that will have the girls staying with him for three nights each week, Radar Online reports. That's one more night with Corey than in their previous arrangement. Corey and his wife, Miranda Simms, will also assume a bigger role in Ali's treatment.
"There will be a shared responsibility to get her to and from appointments. Both parents will be present for her therapy visits," Corey's lawyer, Rusty Webb, said of the agreement Corey and Leah reached during their "very amicable" custody hearing. He added, "They're both very happy with the situation. Everybody is getting along."
However, a source close to Leah said the mom-of-three isn't satisfied with the agreement — even though it seems to be a victory, considering Corey initially filed for full custody.
"Leah is upset with Corey and Miranda," a source told Radar. "She didn't want to lose any time with the girls."
Although it's doubtful Jeremy Calvert will agree to participate in the new season of Teen Mom 2, Corey probably will. And, because Leah officially agreed to resume filming last week, it's likely the aftermath of their custody hearing will play out on MTV next year.