As viewers of HGTV's Property Brothers and Brother vs. Brother know, Jonathan and Drew Scott are jacks of all trades who can hold their own while buying real estate, doing home improvements and hosting a television show. Amazingly, their talents don't end there. The brothers seem to be total overachievers who bought their first home at 18, operate their own production group and even appeared alongside a young Ryan Gosling on a Canadian teen drama!
Naturally, they have also won over legions of fans who are into the whole "tall, dark and handsome" thing.
Unfortunately for admirers dreaming of a ménage à trois scenario with the two brothers, it seems only one is single — and the other has pretty high standards: Both men were pictured with dates during the Miss USA competition in June. (Although the twins are identical, their dates certainly weren't… Quite a height difference between the two!)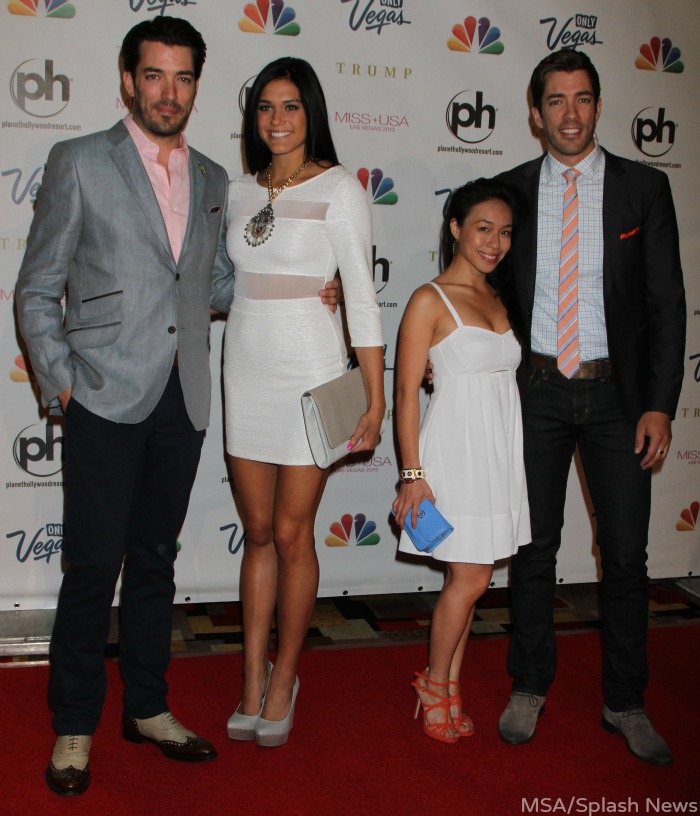 Drew's date was girlfriend Linda Phan, a PR and event coordinator from Toronto. Based on Drew's timeline of interviews, he's been with Linda for about a year and half. (Shockingly, "are you single" seems to be a question that comes up often for Jonathan and Drew!)
"It's great for me, because we work all over the place, and my girlfriend travels around with us," he told Canada's Real Style Network last fall.
Even before they began dating, it seems Drew and Linda knew each other for a while — at least if Jonathan and Drew are as close as they claim to be. Jonathan was actually pictured with Linda at a fashion event in Canada in 2011. He must have put a good word in for his brother, because Linda and Drew got together shortly after that.
She now works for Scott Brothers Entertainment as Creative Director. Her bio reads, "Linda's background in architecture and entrepreneurial passion bring to Scott Brothers Entertainment a fresh perspective of creative vision and direction… Linda is responsible for developing concepts that contribute to the company's growth across various platforms. She manages multiple projects, from digital content, product and merchandise lines, to marketing campaigns and philanthropic efforts."
Meanwhile, it seems Jonathan's arm candy for the Miss USA pageant was just a friendly date he could chat with about the perils of being tall and living in cold weather: She's North Dakota native, 2011 Miss Teen USA runner-up Audra Mari.
Jonathan was previously married, but told Your Tango last year that the relationship didn't work because they "were young & not the right match." He added they remain friends.
On the dating market, Jonathan has a few (literal) tricks up his sleeve. A trained magician, he could give Barney Stinson a run for his money!
If that's something you're into, Jonathan said the surest way to steal his heart is by making his favorite food.
"I think if a woman actually knew how to make sushi I would probably have to throw a ring on her right away," he joked to The Examiner.
Before picking up The Guide to Making Sushi, ladies should beware: Jonathan brings two kids to any relationship.
"The four-legged, hairy kind," he clarified.  "A Yorkie and a Chihuahua."
Watch Jonathan and Drew on Brother vs. Brother on Sunday at 10/9 p.m. CST.