What happened to Laura Perez? When viewers last saw her, the My 600 Lb Life star feared she was near a breaking point with her then-husband Joey, who couldn't support Laura's newfound independence. Since her most recent Where Are They Now? episode,, Laura and Joey did indeed split up — and Laura has found love with a new man. But, after teasing what sounded like a pregnancy, Laura's updates have been seemingly contradictory.
Laura Perez's three My 600 Lb Life episodes have been marked by strife
Laura's peak weight of 594 pounds came in her first My 600 Lb Life episode, back in 2015. Laura had turned to food for comfort during a childhood haunted by molestation. As an adult, Laura was too obese to care for herself, and had become dependent upon Joey to take care of her.
But her medical problems went far beyond obesity. Laura also suffered from debilitating diabetes, was wheelchair-bound, and had to carry an oxygen tank with her wherever she went. "She is physically in one of the worst shapes I have seen," Dr. Nowzaradan said, upon meeting Laura.
Despite her many medical issues, Laura was able to lose enough weight to be approved for gastric bypass surgery. But in the middle of the operation, Dr. Now discovered that Laura's enlarged spleen and liver would make the bypass impossible. The best he could do was a gastrectomy, which removed four-fifths of Laura's stomach.
It was far from what she'd hoped for. But Laura again managed to make the best of an unfortunate situation. Her weight loss was steady over the next two-and-a-half years — and by her second Where Are They Now? episode, in 2017, she'd dropped a total of 336 pounds. Losing 57% of her peak weight meant Laura had managed to finally qualify for a gastric bypass.
Things between Laura and her husband Joey went from bad to worse
By episode's end, Laura was down to just 182 pounds — one of the lowest weights ever featured on My 600 Lb Life. But the personal success took an unexpected toll on Laura and Joey's marriage.
"The better I get, the worse my relationship is getting," Laura said during the episode. "[Joey] acts a little different, like, 'Oh, you don't need me.' I had told him, 'I need you to support me — not take care of me.'"
Unfortunately, Laura's new independence overwhelmed Joey:
"Joey and me seem to be fighting more than ever," Laura explained. "And I want to be more independent. And get a job, and have a career. He doesn't want me to do that.
"I told [Joey] I want to go to beauty school, and he got really upset," Laura went on. "But now that I can go out, I don't want to just stay home all day. I'm not 600 pounds anymore. So I don't need to be trapped. But it's gotten so bad that I don't think there's a whole lot of hope for us right now."
What happened to Laura Perez? Where is she now?
The good news is that Laura's weight loss journey continues to be a successful one. She shared the photo at the top of the article this past March; here's a second update pic, from the same time, in which it's evident that Laura is keeping the weight off if not losing more:
It was around this time that Laura began sharing photos of herself with another man, and offering brief glimpses into what had happened between herself and Joey. She hasn't said exactly when, but Laura has made it clear that she and Joey are no longer a couple. In the wake of their split (which may or may not be a legal divorce), Laura has found love in the arms of a new man named Eric Juarez.
Here's one of the first photos of Laura and Eric as a couple, shared one week after the image above:
Laura's first update involving Eric at first touched on the psychological damage that she says Joey has left her with. Laura then quickly pivots to the "loving, caring man" she has now:
When my ex started to tell me stuff that brought my self esteem down and made me feel like sh!t for the last 3 years. So much damage was done that. There is no healing but now ive moved on thank god he is a great hardworking, loving, caring man that puts me first not noone or nothing im blessed to have him…
What happened to Laura Perez and Joey? Are they really divorced?
The next Laura Perez update would be her longest — and the final one Laura has made to date. Though it comes from Laura's official Facebook page, it appears to actually have been written by Eric. And it offers the confusing claim that Laura and Eric either have children together or were expecting a baby in the then-coming months.
In addition, Eric explains exactly when and why Laura left her husband. It seems last November, Joey slept with an ex-girlfriend of Eric's, then "made [Laura] wanna kill herself" and was somehow involved in a third person — a friend of Joey's — stealing money from Laura. After Laura confronted the thief, both he and Joey "hit her ass." After that, Laura left her now-estranged (or ex-) husband.
Additionally, Eric refers to Laura as having the last name "Juarez," not "Perez." So, while we can't confirm that the two are legally married, the implication is that they are. (Laura would be the third My 600 Lb Life cast member to get married in the past year, alongside Season 4's Nikki Webster and Steven Assanti of Season 5.)
Here's the April 28th update in full:
Hello this is her new husband eric juarez well i carry myself with respect I known my beautiful wife for 1year now and god blessed us with 2 babys there girls shes 5months yes almost there cant wait and y'all must not kno how bad she was mistreated by joey pacheco but around the end of November he slept with my ex girlfriend kayla yanez and we were so shocked nd on November 18 2017 joey made her wanna kill herself and i told her what's the matter babygirl nd she told me his friend stole money from her wallet and she confronted him joey friend hit her and joey hit her ass well y'all fans that say where's joey hes no longer in her life i hope god helps joey with his drug addiction and thank youu every single one of y'all i just wanna say thank you so much for supporting my wife angelika Juarez god bless y'all
And here's the most recent photo of themselves that Laura and Eric have made public. They shared it on April 17th, just under two weeks before the long update above: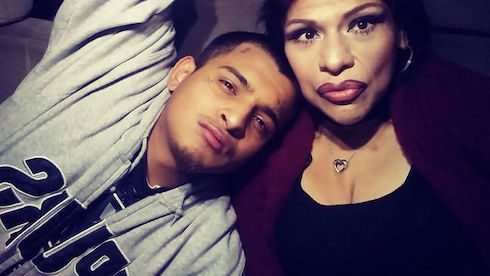 We reached out to her, but we haven't been able to confirm what happened to Laura Perez, either from Laura or the people mentioned in Eric's April 28th update. Since that update, Laura hasn't made any public posts.
In addition, neither Laura nor Eric — who were regular photo sharers until this past spring — revealed any photos of themselves holding a five-month-old baby. It's possible that Eric meant Laura was five months pregnant, not that he and Laura had a five-month-old daughter (or daughters). But Laura does not appear to be pregnant in any of the images she shared of herself throughout 2017 and into 2018.
We haven't yet found out whether Laura will feature in a third Where Are They Now? episode (and fourth My 600 Lb Life episode overall). The new slate of episodes is expected to premiere in early 2019, though, so we should know soon. Between now and then, you'll find Laura's first, second, and third episodes available on the show's official site.
UPDATE – Since we published this story, Laura's long-running official Facebook page vanished from the site. We've also been unable to contact her or anyone associated with her. If you have any information on how Laura may be doing today — or whether she just wants privacy, after several years in the show's spotlight — you can drop a tip via e-mail, Twitter, or Instagram. All names and identifying information will be withheld.
(Photo credits: What happened to Laura Perez via Facebook)
John Sharp is a Starcasm's chief editorial correspondent-at-large. Tips: E-mail at john@starcasm.net or Twitter at @john_starcasm.