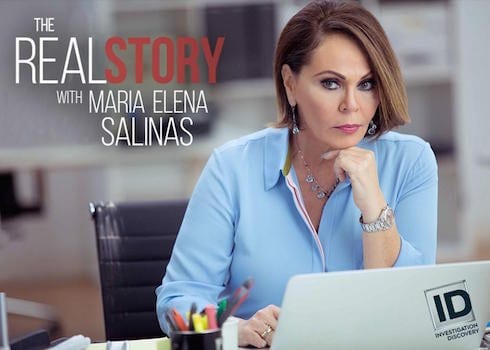 Maria Elena Salinas, who counts Emmys, Peabodys, and Edward R. Murrow awards among her many accolades, is launching a new true crime show in conjunction with Investigation Discovery. Entitled The Real Story with Maria Elena Salinas, the show, per its press release, "peels back the layers of national headline-making crimes in search of new evidence, unheard perspectives, and updates to the cases." For her opener, Salinas picked one of the most high-profile incorrect verdicts in recent memory: she takes a long look at Martin Tankleff today, tracing the life of the Long Island teenager falsely accused of murdering his parents in 1988–and who spent 17 years in prison before being freed.
The basic facts of the case are these. On September 7, 1988, Seymour and Arlene Tankleff were discovered dead in their home in Belle Terre NY. Their 17-year-old son Martin was interrogated by Suffolk County homicide detectives Robert Doyle and James McCready. Based on their interrogation, the detectives wrote Martin's confession for him. At first, Martin admitted guilt–though he almost immediately recanted his confession, and then claimed Doyle and McCready had coerced him into making it. But his claims were to no avail: in 1990, a jury found him guilty of two counts of second-degree murder. Martin's sentence was 50 years to life in prison.

Martin Tankleff today. Screencap via ID
But in 2007, Martin's conviction was overturned, and the state declined to try him a second time. Martin received, by his own estimation, about $15 million worth of free legal counsel while in prison, and the abundance of new evidence his many lawyers uncovered was staggering. The most likely explanation pointed to two men, Joseph Creedon and Jerard Stuerman. Stuerman and Seymour Tankleff were partners in a chain of bagel stores, and had begun butting heads over Seymour's "demands" that Stuerman start paying back the $500,000 he owed Seymour.
Beyond the scenario, two other damning pieces of evidence emerged. The first was that Stuerman was the last person to leave a poker game at the Tankleff's house the night Seymour and Arlene were murdered. And the second was the bizarre, macabre story that Joseph Creedon told at an Easter gathering in 1991: according to a woman who later went to the Suffolk County police with what she'd heard, Creedon had been "bragging about being involved in the murders," and said he'd been "hiding in the bushes before the attacks and afterward covered with blood." And, according to the woman's story, Creedon added definitively that "Martin had not killed his parents."
Here's Martin's first TV interview after being freed, with CBS in 2008:
Today, Martin Tankleff is a lawyer himself: he got his law degree from the Touro Law Center in 2014. He's devoted his life to running Absolutely Innocent, Inc., a nonprofit organization providing legal assistance and counsel to the wrongfully convicted prisoners of New York–and, just as important, "a strong support network" for the families of those imprisoned.
And, though this might be hard to believe, it seems Martin does have something of a sense of humor about his situation. If you like, you can follow him on both Twitter and Instagram–under the handle "xoner8ed."
The Real Story with Maria Elena Salinas airs Monday nights at 10 on Investigation Discovery.
(Photo credits: Martin Tankleff today via The Real Story with Maria Elena Salinas / ID)