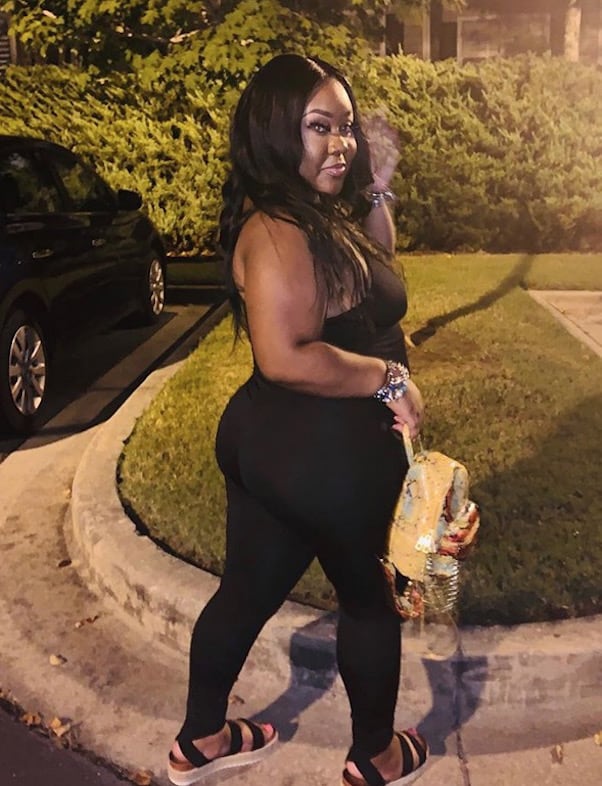 It's now been several months since we found out that K. Michelle was supposedly expecting twins, and that she'd chosen YouTube star Tannae — already a mother of four — to carry the babies for her. But when is K. Michelle's surrogate due? And when will Love & Hip Hop Hollywood give us the big reveal? Not surprisingly, the show is keeping details very close to the chest — so much so that a major question about Tannae's alleged pregnancy has started to gain traction.
As we reported this summer, K. Michelle has chosen for her surrogate a woman she met in the parking lot of the Atlanta Ikea just two-and-a-half years ago. To hear Tannae tell it, all K. Michelle needed to know was that the 22-year-old is the mother of triplets: her attention was piqued when she saw three identical car seats in Tannae and her partner's cart. (In truth, Tannae and Keyontay have four children: their triplet daughters, now three years old, and a 15-month-old son.)
Tannae has been up front about not wanting any more of her own children. "I don't want no more kids, honestly," she said, in the reveal vid where she explained she was going to be the surrogate for a then-anonymous celebrity.
"But," Tannae went on, "I do want to bless [K. Michelle]."
But while that video got plenty of views, and some tabloid attention, it's still important to note one big missing detail. Tannae and Keyontay titled their reveal video "WE ARE EXPECTING TWINS!!" And in the video itself, they say the celebrity — known only as "K" at the time, and since revealed to be K. Michelle — really wants twins. So that's where the "expecting" part of the title comes from.
But elsewhere in the clip, Tannae admits that she hasn't yet "begun the process" of actual surrogacy. Meaning that she wasn't yet pregnant in April, nor had she finalized details on carrying K. Michelle's baby. So when is K. Michelle's surrogate due? Is she even pregnant yet?
For most of the summer, Tannae abstained from posting pics of herself on her social media pages. This, naturally, led to plenty of gossip that she'd gotten pregnant and would be living life on the DL for awhile. (Tannae would not be the first Love & Hip Hop cast member to play cat and mouse with pregnancy pics on social media before a big reveal on the show itself.)
Over the past few weeks, though, Tannae's started sharing photos of herself again. The image at the top of the article is one from last month; here's another one, from just a few days ago:
Of course now that she's started appearing on LHHH Season 6, there's plenty of gossip about when K. Michelle's surrogate is due. And baby bump hunters will swear up and down that they can see one in Tannae's latest pics. If you want to play along, you can follow her on Instagram here. But we're betting that the news will drop on TV, just like the producers intended.
Love & Hip Hop Hollywood Season 6 airs Monday nights at 8 PM on VH1.
(Photo credits: When is K. Michelle's surrogate due via Instagram)
John Sharp is Starcasm's chief editorial correspondent-at-large. Tips: E-mail john@starcasm.net or Twitter @john_starcasm.