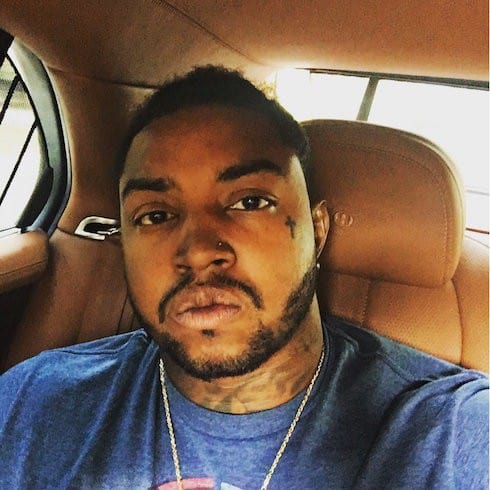 It's been seven months since Lil Scrappy allegedly put his ex-fiancé Bambi in the hospital following a fight at home, and around five months since the two of them ended their engagement and their relationship. But is Bambi back with Lil Scrappy? A pair of new videos featuring Scrappy on a self-described "hunt" for his former flame has Love & Hip Hop fans wondering about his intentions–particularly in light of the just-announced (and long-awaited) Miami spinoff.
Before we get to LHH speculation, though, here are the two videos. The first features Lil Scrappy on the patio at a Miami-area restaurant or bar, telling the camera that he's "goin on a hunt right now, tryin' to find the Bam." He tries to play the moment for laughs, looking out at the women walking by on the sidewalk before deciding "No, that ain't her."
"They say she out here," Scrappy continues. "Either she in Miami or she in Atlanta, one of those places." He then asks a group of three women walking by and four women sitting at the next table if they've "seen the Bam" anywhere, and asks the same of a random dude hanging out elsewhere on the patio. The man says that he has seen Bambi around, but, when Scrappy presses him, he says he can't say where she is now.
"It's a myth," Scrappy says at the video's conclusion.
The next video–which was shared eight days later, according to the upload dates on YouTube–features Lil Scrappy back in Atlanta, pulling up to a club. He's apparently gotten word that Bambi is inside: "Im finna see the Bam, god damn it," he says. "Finna go up in this b!tch with my n!ggas…hope she ain't with no n!ggas cause I'll f!ck that sh!t all the way up. You feel me?"
Lest anyone doubt Scrappy's determination, he concludes by saying "Finna go find the Bam face to face, see what we gonna do."
From there, the video becomes a semi-montage of side-angle shots and jerk-cuts, featuring Scrappy milling about in line outside the club, walking into the main room, and, eventually, pulling up on Bambi herself. It's worth pointing out that Scrap was definitely not trying to keep things on the DL: the shot of him walking into the club features a shout-out from the DJ, who announces that "Lil Scrappy" is in the club tonight. (Scrappy is also at the mic with the DJ in the final shop of the clip.)
It's hard to tell whether Bambi is amused at or displeased by Scrappy's appearance. She freezes when she sees him, and might be smiling (the club lights make it impossible to say for sure), and she remains frozen the whole time the camera is trained on her.
It's also hard to say exactly what Scrappy's intentions are. The rumors regarding he and Bambi were not kind, and many Love & Hip Hop Atlanta fans (if not most of them) seemed to be relieved that the couple had called it quits–again, mostly because of those rumors. And Scrappy appeared to bid farewell to Atlanta at the end of LHHATL Season 6, heading south for Miami to try and rejuvenate his career. And Bambi and Lil Scrappy were not included in the initial LHHMiami cast list, which VH1 announced over the weekend.
So it's possible that the whole thing is a storyline setup for LHHATL Season 7. In any event, we'll keep you updated.
(Photo credits: Is Bambi back with Lil Scrappy via Twitter; h/t to Fameolous)