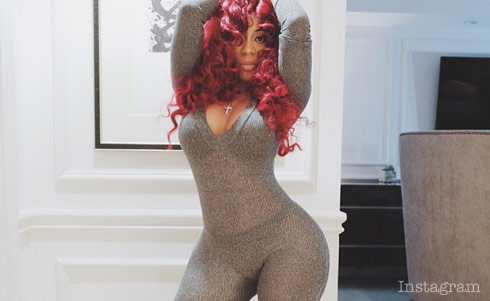 In an interview posted yesterday by B. Scott, singer and former Love & Hip Hop Atlanta cast member K. Michelle revealed that she will be having her butt implants removed.
K. Michelle said:
"I have like movies and different things I'm working on, and I was having a real conversation with Tyrese — we're really like great friends. I was telling him about my butt, how I hate being typecasted because my bottom is so heavy — not saying I don't love myself, but you know… For me, I want my normal shape back."
The 33-year-old "Fake It" singer said that she got the butt enhancements initially because, "That's the shape that I wanted. I wanted to look like that. I think the older you get you get tired of having to hop into your jeans!"
She was her usually candid self when asked what advice she would give someone considering body enhancements. "I would say if you have the coins to put it in, have the coins to take it out. That's really what I would say. No, really —because it might be a phase! I would tell other girls, don't go and do what you see people doing. But, if that's what you want to do — if that's the body you want — go get the body you want!"
She added that her shape makes it hard to wear designer clothes -but(t) she wanted to remind everyone she's always had an ample behind. "That's one thing, I've always had a big butt. You can ask anyone in college," she said.
Turns out we did a post a while back featuring pics of K. Michelle, back when she was known as Kimberly Pate, participating in FAMU's Royal Court.