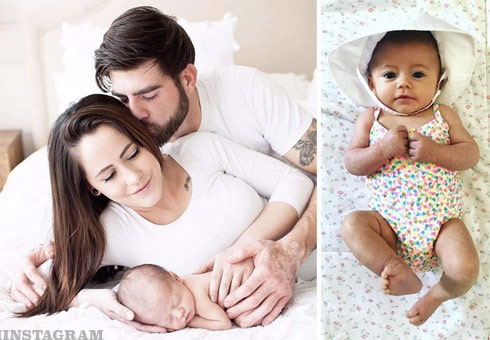 Jenelle Evans has addressed the recent rumor that her infamous ex Kieffer Delp is the father of baby Ensley.
This got started after the Teen Mom 2 firebrand and fiancé David Eason each took to Instagram to share an adorable photo of their daughter in a heart pattern onesie and hat. The darker skin tone from the photo had some speculating that Delp was the dad.
One fan wrote on Jenelle's post, "Everyday she looks more like Kieffer. Told him he should ask for a DNA test" while another chimed in, "She's not David's anyone can see she is mixed."
The Dirty reached out to Evans and she said:
"That's ridiculous… Not true… The filter made her look dark."

When folks started questioning the same on David's share, he had the following reply:
"The shadow makes her skin look dark lmao. She is white as hell!"
While the negativity garnered the attention, the most frequent comment on the post was that Ensley looks just like her older brother Jace.