Teen Mom 2 star Leah Messer has been relatively quiet on social media over the last few months, but some recent events had the 23-year-old mother of three letting loose on Twitter. In addition to addressing recent reports that cops were called on her for failure to properly restrain her daughters in their car seats, she also challenges a new preview clip from next week's episode showing her exes Jeremy Calvert and Corey Simms teaming up against her.
As far as the cops being called due to improper restraint, Leah wrote, "Just to clarify some rumors .. I have NEVER been stopped by a cop and the girls have ALWAYS had their car seats. #Sad" She then added, "And just like any other kid.. After I strap them in and adjust them they 'READJUST' them on their own when I'm driving .. #letsBreal."
Someone shared a screen cap from the now-infamous scene in which Leah's daughters are riding in the back seat of her very cluttered car:
@TM2LeahDawn @KillaDilla31 you can ALMOST see the baby shoved back there. pic.twitter.com/6pRpZ00lxZ

— Amanda JJ (@AmandaJJ4179) September 12, 2015
"Addie was pulling the stuff down," Leah responded, "but that wasn't shown nor was it shown that I just got back from being out of town and had not unloaded my car yet."
As far as the preview clip, Leah had a LOT to say about that! First off, here's the clip:
In the clip Jeremy confirms to Corey he has filed for divorce and says, "I feel like my old self again." He says flatly, "I was miserable."
Corey sympathizes. "I was the same way," he says. "I was f**king skin and bones sick until Miranda came along and it was like, it was like a f**king rainbow with a pot of f**king gold."
"She went from being normal to a compete 180," says Jeremy of Leah. "Prescription pill problem."
An animated Corey says, "This drug issue, that everybody knows she has, is swept under that carpet, and don't want nobody wondering where she went. We're the father of her children. We need to know what's going on with the mother of our children. Why are you sweeping it under the rug, acting like there's no big deal?" He then offers up a hypothetical. "If it was us, what would happen?"
"We'd be f**king crucified," says Jeremy.
"We would never see our children, EVER again," Corey says.
Jeremy then shares a potential nightmare scenario that worries him a great deal. "My biggest fear is she's going to keep getting away with sh!t until one of these nights me and you are going to get this f**ked up phone call 'cause mommy done f**king made a big boo boo. And that's when I'm going to go f**king ballistic."
Corey has a similar fear. "Every time I hear about a wreck in this area, I freak the f**k out 'cause I'm thinking, 'Holy f**k.'That's why I'm being the d!ck."
"Your not being a d!ck," counters Jeremy.
"I'm doing it because it has to happen," says Corey.
Leah shared the clip with the quick caption, "#scripted Jerm knew !! lol." Then she really opened up the floodgates:
I talked to Jeremy the whole time … Jeremy can't stand Corey .. This was definitely SET UP and not even the truth. Don't care if I do get in trouble this is BS .. I should open my mouth way more. In the scene you can tell Jeremy was looking over at a producer saying something about a prescription pill problem and they edit it to where it looks as if he is saying that to Corey. I could go on but its best I didn't …
But she does. "Not to mention Jerm just told me this scene was filmed before I even left the FIRST time lol."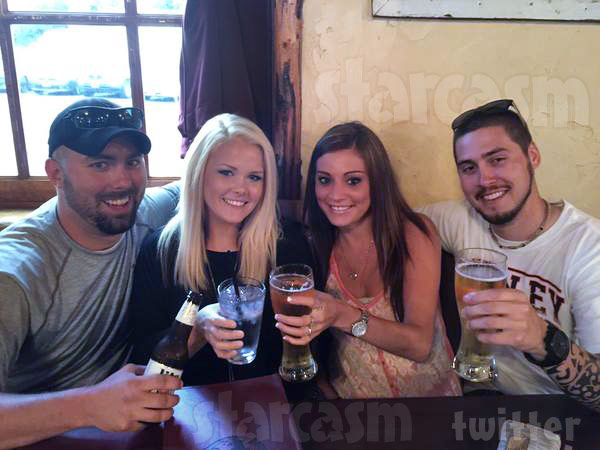 Leah doesn't respond to tweets asking about the photo above featuring Jeremy and Corey together, along with Miranda and Jeremy's new girlfriend Brooke, seemingly having a great time sharing drinks after taping the Reunion in Los Angeles in July. Corey tweeted the photo along with the #lifeafterleah hashtag.
Another topic Leah did not comment on were the reports from earlier this week that she and Corey recently hooked up in the back of his truck.
However, Leah does respond to a few other tweets:
TWEETER 1: are you and Jeremy still together?!
TWEETER 2: They are divorced. She's already dating and living with another dude
LEAH: I'm living with MYSELF AND MY DAUGHTERS
TWEETER 3: still doesn't change the fact you have/had a prescription pill problem but won't admit it, you will never recover until you do
LEAH: I'll have to provide ppl with my medical records for them to know the truth even records for Sierra Tuscan. #sad
So what about that scene where she is holding Addy and can't seem to keep from nodding off?
LEAH: that wasn't accurate either .. My brother was like… Wtf?
TWEETER 4: the drug nod. Like I said people care about you and you could use this as a platform to help, but only when your ready
LEAH: you're exactly right and if it was a drug problem absolutely ! There is other issues that I promise I will bring awareness to. For example: treatment is not only for addiction but many many other reasons as well. No one seeking help should be looked at in a negative light for we DO NOT know/understand what's going on to Judge. The world could CAN and WILL be a much better place. Treatment is for ANXIETY and DEPRESSION as well.
Tune in for a brand new episode of Teen Mom 2 Thursday night at 10/9c on MTV!