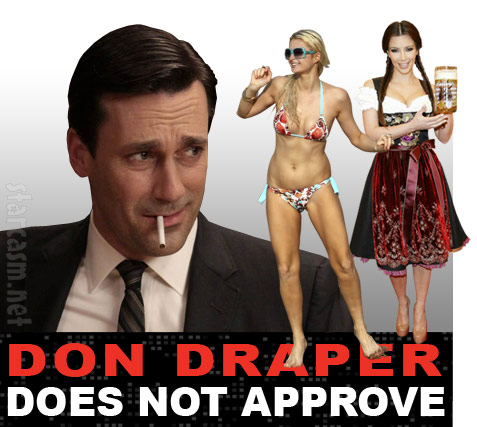 It appears Jon Hamm is a mad man when it comes to the popularity of reality stars! The Mad Men actor spoke very candidly on the subject in April's Elle UK magazine, saying "Whether it's Paris Hilton or Kim Kardashian or whoever, stupidity is certainly celebrated." Then he adds, "Being a f***ing idiot is a valuable commodity in this culture because you're rewarded significantly."
Also on Don Draper's Jon Hamm's poo poo list? Skinny girls! He says in the the interview that he doesn't understand why skinny blonde women (see: Betty Draper) have become the epitome of beauty in modern society. He believes curvaceous women such as his co-star Christina Hendricks are more beautiful.
It is very frustrating that our society values women on how skinny they are when it should be measuring them on how big their boobs and hips are! 😉
Skinny women and reality stars are bad. Bethenny Frankel will not be pleased. But, at least she's not blonde.
Meanwhile, Jon Hamm has come out in support of Lindasy Lohan's recent hosting gig on Saturday Night Live, telling Ellen on her show, "Lindsay did a great job." Linday's not a reality star and she's curvy so it figures.