Just over one week after it was first reported that Jenelle Eason was hospitalized after calling 911 and claiming that she was assaulted by her husband David Eason, the Teen Mom 2 star addresses concerns for her well being, updates on how she is doing now, and explains why she abandoned social media with a YouTube video titled "CONFESSIONAL: DOMESTIC VIOLENCE."
"I've been debating whether to upload this video or not these past couple of days," Jenelle wrote in the video's description. [Full video included at the bottom of the post.] "Everyone thinks it's a bad thing I disconnected from my social media accounts, well here's the truth why!"
In the clip, which Jenelle explains is filmed in a closet "because I'm trying to hide from the kids while I make this video," Jenelle insists that she "is completely fine."
More from Jenelle:
I know everyone wants to know: "Is she okay? How are the kids? blah ba ba ba ba…" Everything's fine. You know, I've been in so many domestic violence situations in the past that I would not put up with it now. So, I don't know why you guys would think that I would continue to stay in this relationship if I was being abused.
I mean, I can tell you my past — that MTV didn't film when we took a break from filming — it was horrible, [Interrupted by her dog Nugget.] …So I want to let you guys know that I've been in domestic violence situations before in the past. I've been in, you know, two or three relationships that were domestic violence, and what did I do? I kept Jace away from it. I had just him at the time, so when I had my visits, I would have my visits alone, and I made sure that other person wasn't around me. I don't want to give any names because I don't want anyone, like, blowing up my social media because I said sh*t.

Everyone knows that I've been in domestic violence situations before, and every time I tell you guys about it, or every time I open up, you guys are like: "No. She's lying! She's putting him in jail. She's such a f**king liar! Bleaah!"

Well, that's not the case. At all. I was ALWAYS telling you the TRUTH about EVERY THING THAT HAPPENED with EVERY ONE OF MY RELATIONSHIPS. And if you don't believe me, I don't know what to f**king tell you. I really don't. Because it's at the point now where I have been an open book since day one. I've always been an open book to every single one of my fans, and my haters. Whether you guys hate it, whether you guys like it, I'm just, like, "F**k it! I'm just gonna air it anyway!"
So, with that being said, my mom is here behind closed doors all the time, now that she's involved with my life again. And all my close friends and family, they know I'm doing fine. They know I'm happy. They told me, they said: "Delete all your social media apps for a week, disconnect." That's what I did, and it's been so, so much better. You don't compare yourself to people, you don't — you don't worry about what other people are up to. You worry about what you're doing, what makes you happy, and what makes your family happy. And if that means that I have to disconnect from social media like this all the time, I will do that. My mental health is way more important than people bringing me down like this and making me depressed.

Yeah, so every time I told you guys I was in a domestic violence situation, you would not believe me. And now that I'm saying that I'm not, now I am, and now you guys are trying to tell me something different. So I'm just sick of hearing it. Just stop. Just stop.

You guys can tune into [very sarcastically] Teen Mom this season and it'll be cool. You'll see all this f**king drama unfold.
Jenelle goes on to say that she is doing well in her recovery after the surgeries on her nose two weeks ago, and she adds that she wants to update her YouTube channel more frequently.
In case you missed it, the 911 call features a sobbing and seemingly terrified Jenelle telling the 911 operator that her husband David pinned her to the ground. "I think I heard my f**king collarbone crack!" she says at one point in the distraught call.
Soon after the story broke about the call, but before the audio was released, a rep for Jenelle told People in a statement that Jenelle "had friends over Saturday night and they had a bonfire on her property. Jenelle ended up tripping and falling by the fire."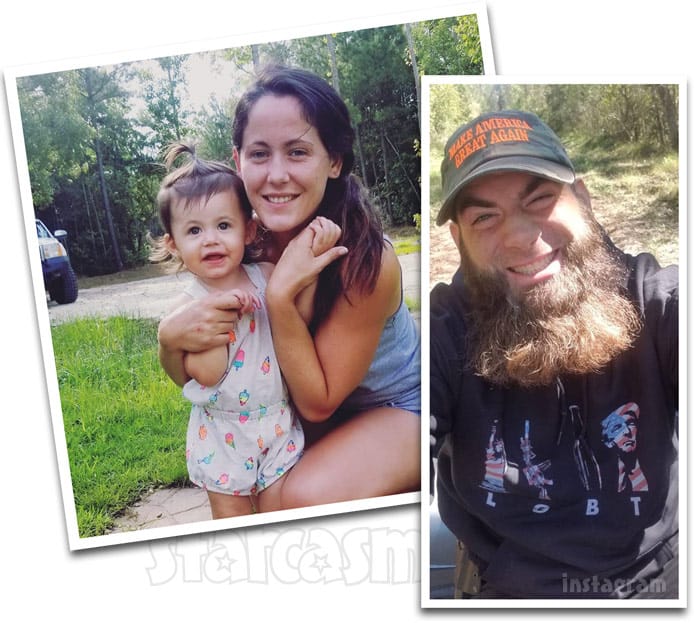 Jenelle herself later said in response to the harrowing 911 call: "It was a drunk and dramatic misunderstanding. Everything is great. We are totally fine."
Meanwhile, The Ashley's Reality Roundup has a behind-the-scenes source who claims that Jenelle spoke with Barbara on camera about the incident "and basically said they were both super drunk and she just tripped and fell into David and they both thought the other was attacking them, so that's how it got blown out of proportion and why she called 911."
So what do you think of Jenelle's video? Is the fact that she has repeatedly entered into relationships involving domestic violence a good reason to think that she hasn't done it again? And do you think Jenelle is right when she points out: "I was always telling you the truth about every thing that happened with every one of my relationships?"
And I guess the biggest question — does Jenelle's video help convince you that she is indeed safe and that David does not pose a physical danger to her?
Here's the full video:
Asa Hawks is a writer and editor for Starcasm. You can contact Asa via Twitter, Facebook, or email at starcasmtips(at)yahoo.com