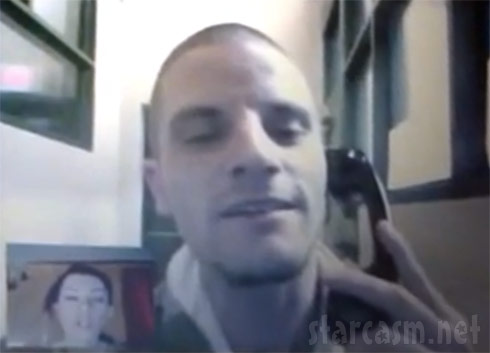 On Thursday we posted video clips from an interview with Jenelle Evans' husband Courtland Rogers, who is currently in jail awaiting a court date for charges stemming from his and Jenelle's arrest on April 23 in which 12 bindles of cocaine were allegedly found in their possession after they got into an altercation and police were called to the scene. The videos, recorded by fan Krista Lynn, were all under a minute, and there were large chunks of the interview left out. Krista has since re-edited the videos and uploaded them so that now we can see the Courtland Rogers jailhouse interview pretty much in its entirety, including his claims that his ex (and current Jenelle bestie) Taylor Lewis told him Jenelle is pregnant again with his child!
As I did before, I've included a description of each clip below the videos. There are some overlaps, but I think I've noted them all beside the clip titles.
CR

Courtland shows off his Jenelle tattoo on his chest and says, "I tattooed her name on my heart and she broke mine."
Do you have a message for Jenelle? "Jenelle, you've been a bad girl," Courtland says.
Courtland says he's making the best of it in jail and that he's not sad but content. "Hell no! I'm not a sad type of guy. That's why [Jenelle] fell in love with me so fast! Because I'm such an outgoing person." He then talks about how Jenelle was engaged to Kieffer Delp and Gary Head for long periods of time without ever actually marrying them, but she married him after 13 days.
Courtland asks if Jenelle is pregnant and Krista says "I don't think so!" Courtland responds by saying "That's what Taylor told me." He then adds, "Taylor told me she was pregnant right now and that it was my baby and I might be having another kid. She said it was mine!" *
* The pregnancy rumors have also been fueled by some screen capped Twitter conversations allegedly between Jenelle and her ex Gary Head that were posted on her Twitter account over the weekend after it was hacked. In one of the message Gary appears to write, "@PBandJenelley_1 You told me you were going to get an abortion. Don't play me for stupid. I'll leak all your secrets might wanna #keepHush"
Courtland says he talked with Taylor the day before and she let him speak with his daughter Jordan, who he calls Ja-Ja. "I sang Ja-Ja the mockingbird song from Eminem," Courtland says before being asked if the time of the interview was OK, to which he responds with "Any time!" and he adds that with as many fans as he has he should be getting a visit every day.
Courtland then asks Krista to get a hold of Shae Bradley from Buckwild and tell her "I'm sorry, I should have believed her."
CR more in 1

Courtland says about Jenelle, "I thought she loved me. She lied. It was bullsh!t. But, there ain't nothing I can do about it, you know?" Courtland says he hopes to be a great dad when he gets out and mentions that his daughter's birthday is coming up on June 13. "I'm gonna be in here it looks like," he says.
"I want some chocolate milk so bad right now! Oh my god!" Courtland then asks for people to send him mail at:
Courtland Rogers
PO Box 9
Bolivia, NC 28422
"If they write me a letter and send me one stamp I'll write 'em back. I've got nothing else to do with my time."
Courtland says he's been in 40 days and that his next court date is "June 11 or something" and he'll know more then about when he might be getting out.
When asked about being in jail with Jenelle's ex-fiance Gary Head, Courtland says Gary walked by him without saying anything. Courtland wishes he was out of jail so he could see what Gary was saying about when he saw Courtland in jail.
Courtland is shown photos of his daughter Jordan, and he says that Jordan's mother Taylor Lewis won't bring her to see him in jail.
Longer CR (picks up from the last video right around the 4:40 mark)

Krista shows Courtland a photo of what appears to be Taylor, Jordan and Jenelle together. "Man that sh!t breaks my f***ing heart," Courtland says. "You know how good I was to Jenelle? Man I loved every piece of her body. I loved every piece of Jenelle's body and for her to do this sh!t to me breaks my heart."
Courtland laments the fact that Taylor Lewis (the mother of his daughter) is now hanging out with Jenelle and that Jenelle gets to spend time with his daughter Jordan.
Courtland says that Taylor is using Jenelle and he feels bad for Jenelle because he still loves her. "I miss our little talks so bad. I miss her so much," he says. "And everybody's saying she's having sex with like five other people right now, six other people — I'm like, 'Ohhhh my god!'"
Krista mentions that Jenelle was seen out with Taylor Burt from Welcome To Myrtle Manor a couple weeks ago in Myrtle Beach. Courtland says, "Look, I'm in here about to do a lot of time and she's out there just enjoying her life on something she should be in here for, and I should be out there enjoying my life being a father to my daughter. This is crazy!"
"The whole world is about to watch an innocent man go to prison, I swear to god," Courtland says. He then claims Jenelle has already been indicted on the felony heroin charges, though Jenelle's attorney says it hasn't happened yet. (He expects it will happen soon.) "I've never been to jail and said I was innocent in my life!" Courtland proclaims.
Courtland is worried that everyone has forgotten him and says again, "I just want some mail so bad! … It's like gold in here!" he says. Courtland then reveals that Taylor told him she and Jenelle were about to film together for some kind of show. He also says that Taylor's sister's baby daddy was in the same block as him now.
CR sees TL's sisters bro in jail (Picks up from the last video right around the 45 second mark)

Krista reveals that fans were offering her money to do the interview and have him answer questions, but she did it for free. Courtland was a little upset that she was only offered fifty bucks, but he is very pleased that she talked with him. "I'll take a visit any day of the week from you!" he says.
Courtland then asks about his Twitter accounts.
Cr asks abt his twitter acct (Picks up right at the 50-second mark)

Krista asks about someone named Ashley, who she says has been feuding with Jenelle on Twitter. Courtland says Jenelle accused him of cheating on her with Ashley but "I ain't never cheat on Jenelle one time, except before we got married." He then admits that after they got married he had girls tell Jenelle that he cheated on her "because she p!ssed me off."
Cr again (Includes some of the same footage from the very first clip above)

Courtland asks if Jenelle was going to see the video and Krista asks him if it's OK that they were going to share it with everyone on Youtube. Courtland says, "I don't care who sees it!"
End of it

"They need to be careful doing what they're doing," Courtland says. "Just because I'm in jail doesn't mean nothing. Brunswick County has a strong way with getting words to me."
At the end he says loudly, "Jenelle, you been a bad girl, and you know it!"
Ed. Note: The first post we did created a bit of Twitter drama in which people were calling us "sleazy" and questioning our journalistic integrity because we did a post with an embeddable Youtube video and we didn't track down the identity of the person who recorded it. We have been talking with Krista and we both agree the entire thing was just a big misunderstanding, but just in case there are still some people upset at us out there, here is our account of what happened leading up to the publication of the story:
A third party tweeted a link to a Youtube interview clip with Courtland Rogers in jail. The interview was broken up into multiple public embeddable clips so we did a post about it. The female fans conducting the interview did not identify themselves in the clips (Krista did mention her name in the extended clips above, but not in the originals). The Twitter ID @oamyamyo was included in the original third party tweet and had tweeted Courtland's account of what happened when he and Jenelle were arrested, which was quoted in the post. I did not include a link to the Twitter account because I had no idea if this person wanted her identity to be known. I followed @oamyamyo (who was already following us) on Twitter and asked her if she would like us to credit her (by name) in the article. She never responded. I saw in her Twitter interactions that @KristaLynn311 was also involved in the interview, so I was going to send her the same message, but her account was private. So I clicked to follow her, which of course was then pending approval.
Soon after this the drama started on Twitter accusing us of being "sleazy" and "taking credit" by "stealing" the interview, which makes no sense given that they were embeddable public video clips posted on Youtube. We stated very clearly in the article that it was a fan who had taken the initiative to set up and do the interview with Courtland (not us).
If @KristaLynn311 and @oamyamyo feel slighted or taken advantage of in any way, we're genuinely sorry about that. (As I mentioned above we have since talked with Krista and we're good.) That being said, if someone tweets us a link to a Youtube video tomorrow of a conversation with Jenelle in which she announces she's going to be making a sex tape with James Deen, then we're going to do a post about it and include the video. If the identity of who uploaded it is made clear in the clip we will include it, otherwise we won't. In the end I believe the fans who did the interview did it so that Courtland could tell his side of the story with the hopes that lots of folks (including Jenelle) would see it. He did tell his side of the story and lots of folks did see it (including Jenelle). Kudos again to both of the interviewers for taking the initiative in the first place!