It was an off-camera MTV reality show crossover event this weekend in New Orleans as Teen Mom 2 star Chelsea Houska and her gal pal Erika Flom met up with Caged stars Daniel Payne, Dane McFarland, Wes Branch, and Roy Lang III for some Mardi Gras fun.
Chelsea Houska and Daniel "Golden Boy" Payne (seen in the photo at the top of the post and to the left of the photo above) actually have a bit of a history together after their Twitter friendship sparked a few internet rumors as well as a fake People magazine cover. And the friendship struck up over Twitter only seemed to grow stronger as the young reality stars took to Bourbon Street and did what people do on Bourbon Street during Mardi Gras… have a hell of a lot of fun!
Of course the photos came with numerous tweets from everyone involved. Here are some of the highlights with more pictures mixed in:
Chelsea Houska: But…so happy to be in New Orleans with my lovaaa @erikaflom 🙂 -tomorrow is when the fun starts!
Chelsea Houska: Sideways just came on the radio while @erikaflom & I are getting ready for Mardi Gras….#perfect #gonnagetalittlebitsideways @DierksBentley
Daniel Payne: Finally on our way to good ole New Orleans! We gone do work on dat dang bayou…I tell ya what…
Dr. Randy Houska (Chelsea's dad): @DanielMTVCaged You better be bodyguard for my little girl @ChelseaHouska tonight!!
Daniel Payne: of course…I'm a great bodyguard even tho I don't look like it…lol
Dane McFarland: I love love love love love @ChelseaHouska
Chelsea Houska: I love love love @DaneMc_CAGED
Then Mardi Gras happened and there wasn't too much Twitter conversatin' goin' on, although there were quite a few photos!
Erika Flom: We don't remember anything from last night..remember?
Dane McFarland: ha yeah i guess i do remember that….kinda!
Daniel Payne: hahaha…I'm so hungover I kinda wish we woulda died..
Dr. Randy Houska: @DanielMTVCaged I think you are fired as bodyguard since she didn't catch her flight!!
Daniel Payne: @PapaRandlicious Im sorry! I tried to wake her up but @erikaflom attacked me…she came outta no where…I thought I was gonna die
Chelsea Houska: @DaneMc_CAGED you left your pants here
Dane McFarland: @ChelseaHouska damn I just need my pants back!!
Erika Flom: guess your going to have to come to south dakotahh to get them back 🙂
Erika Flom: Then maybe just maybe you can have your pants back
Dane McFarland: @erikaflom lol I really need my pants back girl!!
And judging from THIS PHOTO Erika Flom might need to get her bra back from DaneMcFarland!
Of course, it could be that Erika and Chelsea don't have his pants at all – they could be in the possession of… Jamie Lynn Spears!
Chelsea Houska: Woah @erikaflom and I are extremely emotional today lol wtfff.
Chelsea Houska: Gotta admit…@erikaflom and I are a little heartbroken without @DaneMc_CAGED @Rattle_MTVCaged @DanielMTVCaged
Dane McFarland: yeah yeah we miss our teen mom girls too!!
Chelsea Houska: @DaneMc_CAGED dont forget to practice your booty pop…better have it down by the next time I see you
Dane McFarland: @ChelseaHouska haha imma practice every night in the mirror before I go to bed!
Chelsea Houska: @DaneMc_CAGED atta boy!
Chelsea Houska: @DaneMc_CAGED and 1 and 2 and 1 and 2…
Daniel McFarland: @ChelseaHouska and 3 and 4 now drop it like its hot!!
Daniel Payne: Best part of the wknd, @ChelseaHouska & @erikaflom sayin they were glad me & @DaneMc_CAGED were just as weird as them
Erika Flom: so you guys are crying too?! #missyou hahaha
But Daniel, Dane, and Roy weren't the only Caged stars gettin' some Houska lovin'! Co-star Wes Branch also got in on the action with a kiss from Chels:
Erika Flom: So I left home with my dignity now I just have a bunch of beads..
Chelea Houska: @jamielynnspears loved meeting you pretty girl! We had fuuuun–gotta get our girls together soon 🙂 xoo
Erika Flomm: so glad i got to meet you girl! but sad we didn't get to hang out more..hope the rest of your mardi gras is ammmaazing!@jamielynnspears
Jamie Lynn Spears: @erikaflom @ChelseaHouska me tooo guhs!!! Y'all come back soon and lets do a Playdate !!! #momproblems
Jamie Lynn Spears also spread the love, giving Roy Lang III a hug: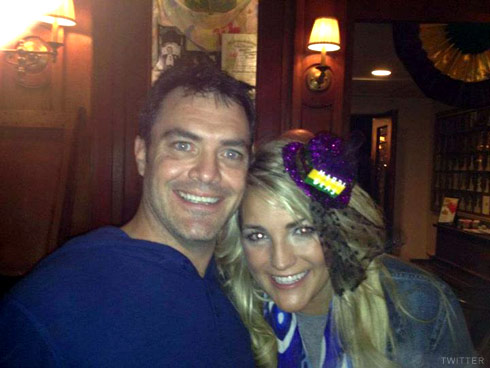 (Oh, and in case you missed our previous post, just click the link for photos of Jamie Lynn Spears and Chelsea Houska together.)
Thanks to Chelsea, Erika, Daniel, Dane, and Roy for their generosity sharing all these images on Twitter and Facebook! Teen Mom 2 wraps up its second season with their "Dr. Drew Check In Special" Tuesday night and Caged continues its run on Monday nights at the new time of 11/10c.