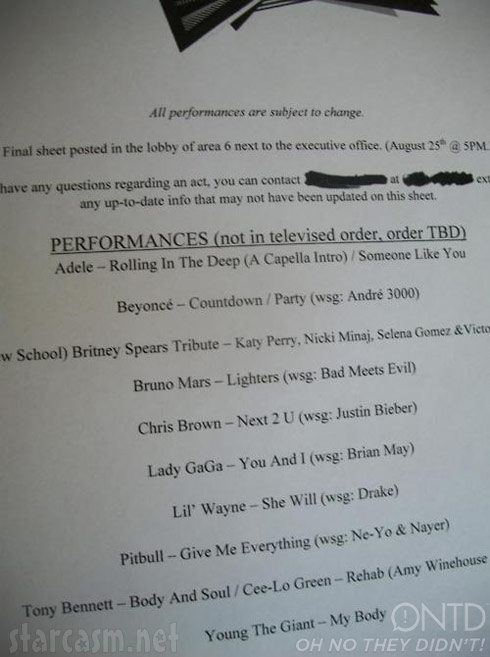 This photo of a supposed 2011 MTV Video Music Awards setlist surfaced on the web site Oh No They Didn't earlier today detailing a list of performers and what they will be singing during the awards show, including the tributes to Britney Spears and Amy Winehouse.
The author of the post is quick to point out that she doesn't know if the setlist is official and that it could be a fake, but makes the perfect statement, "it's not too outrageous to not be true." She expresses her doubts about the Britney tribute section, which does seem inaccurate since it lists Selena Gomez even though the singer has stated publicly that she would not be performing during the Awards show, only presenting.
Anyhoo, here is a transcript of what I was able to make out – let the debating (b!tching and moaning) begin!
* * * * *
All performances are subject to change.
Final sheet posted in the lobby of area 6 next to the executive office. (August 25th @5PM.)
If you have any questions regarding an act, you can contact [redacted] at [redacted] ext. ??? for any up-to-date info that may not have been updated on this sheet.
PERFORMANCES (not in televised order, order TBD)
Adele – Rolling in the Deep (A Capella Intro) / Someone Like You
Beyonce – Countdown / Party (wsg: [with special guest] Andre 3000)
[New?] …w School) Britney Spears Tribute – KAty PErry, Nicki Minaj, Selena Gomez & Vict… [Victoria Justice?]
Bruno Mars – Lighters (wsg: Bad Meets Evil)
Chris Brown – Next 2 U (wsg: Justin Bieber)
Lady Gaga – You and I (wsg: Brian May)
Lil' Wayne – She Will (wsg: Drake)
Pitbull – Give Me Everything (wsg: Ne-Yo & Nayer)
Tony Bennett – Body and Soul / Cee-Lo Green – Rehab (Amy Winhehouse…
Young The Giant – My Body
* * * * *
UPDATE – The author of the post was asked in the comments who sent the photo to her to which she responded, "A friend, while he has nothing to do with the VMAs (he works at RCA, and he's delivered a few times when it comes to info and music from artists under that label) I thought it would be interesting to post."
The photo has stirred up quite a frenzy since it was posted! My favorite comment about the whole thing (I was a graphic designer for along time before becoming a blogger) is "everything in Times New Roman is always fake."