For a long time 6-time Grammy winner Adele felt like the ex who broke her heart and raked it over the coals didn't deserve one iota of credit for her massive success she's gained from mining her heartbreak to create beautiful songs.
But now, she tells Vogue, she thinks he deserves at least a "little" credit for providing the inspiration that helped her become a Grammy-winning worldwide music titan.
"For ages I was like, As if he deserves any f–king kudos for inspiring my record. But now, after some time, it only seems right that the person who so far has had the biggest impact on me — has now changed my life for f–king ever with this album — deserves a little credit."

I can do things that I never dreamed I'd be able to do. If I hadn't met him, I think I'd still be that little girl I was when I was eighteen. And the best thing is, I now know what I want for myself and from someone else. I didn't know what I wanted before."
This is definitely the sign of emotional growth, and she's a very classy lady for giving this (still anonymous) guy a bit of credit, in Vogue, no less. At this point, I'm guessing she might be keeping his identify a secret because of all the death threats and hate he'd probably get hurled his way if the public ever learned who he is.
In a way, he does deserve some credit, but writing songs (with the help of amazing co-writers like Paul Epworth) like "Rolling in the Deep" and "Someone Like You" and singing them the way she does is ALL ABOUT HER.
Speaking of all about her, she always looks stunning, but these are some drop-dead gorgeous photos of her in Vogue:
Holy cleavage Adele! Christina Hendricks betta watch out!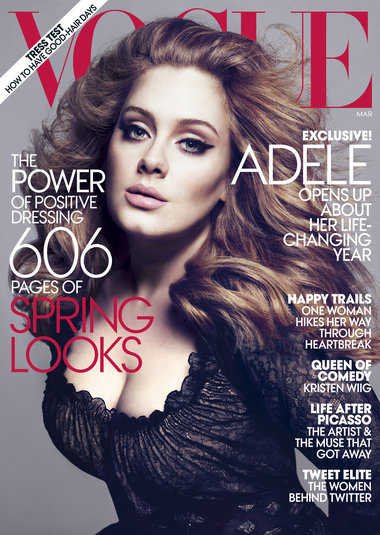 Adele also told the magazine that she burst into tears when she found out she had been nominated for six Grammys:
"I burst into tears when I found out. And I would love, absolutely love, to win. This record is coming to an end, and that would be the final brick on it."
She did win, all of them, and this record isn't coming to an end at all. It will live on forever, like all the greats.