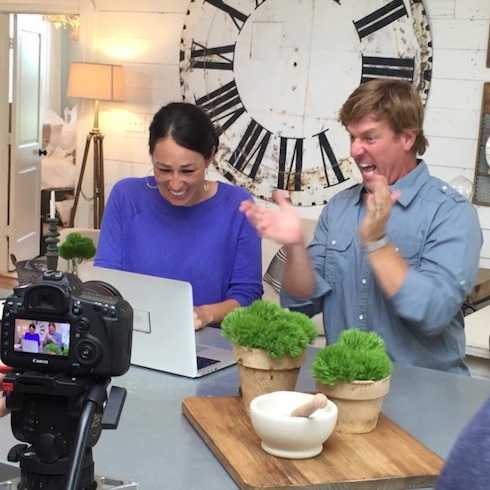 The latest Fixer Upper update brings a variety of news related to the show, not least of which is official word over whether tonight's thirteenth episode in Fixer Upper Season 3 is the season finale. (Here's a quick hint: expect a lot more Fixer Upper in your near future!) It seems that speculation about tonight's episode started to spread on Twitter, since Fixer Upper Seasons 1 and 2 were both thirteen episodes long, and February 23rd marks the thirteenth Tuesday night since the season premiere way back on December 1st.
One enterprising fan reached out to carpenter extraordinaire Clint Harp, which led to an inadvertant Fixer Update courtesy of producer extraordinaire Rob Zimmerman:
.@shelby_rice_ I'll take this one, @clintonharp. No, tonight is not the season finale. There are quite a few more #FixerUpper episodes left! — Rob Zimmerman (@robzimm) February 23, 2016
.@tinytex @shelby_rice_ @clintonharp Past seasons of #FixerUpper have been 13 episodes. But S3 can't be stopped! — Rob Zimmerman (@robzimm) February 23, 2016
Indeed, a quick look at the official Fixer Upper Season 3 episode guide reveals that fans can expect at least fifteen episodes in this season, if not more. While Season 3 will eventually (sniff) come to an end, recent updates from both Joanna and Chip have made it clear that filming for Season 4 is already underway!
What's a fan to do during the long layoff from Fixer Upper update to Fixer Upper update? Well, for starters, you could try paying a visit to Magnolia Market, where the Magnolia Inn is finally open and accepting reservations. Unfortunately for would-be road-trippers, there are two catches. The first is that the B&B–which does sleep eight–will run you $695 per night. And, double unfortunately, the Magnolia Inn is currently booked solid through December 23rd, 2016. December 24th is the only available date between now and the end of the year, other than a handful of blocked-off dates that may or may not open between now and then. Reservations aren't yet available for January, though, so, if you want to plan a year in advance, check the calendar on the regular.
In a more immediate (and affordable) Fixer Upper update, Joanna and Chip recently finished The Magnolia Story! The couple announced the completion of their official autobiography with a handful of updates on social media:
The previously announced Fixer Upper book now has a few more details attached. Per its official page, here's an introduction from Joanna explaining what fans can expect:  
I knew when I married Chip in 2003 that our life would be an adventure, but through all of the ups and downs I would never have imagined we'd land here. What I do know is that I couldn't have asked for a better partner to share it with. We are so excited to announce that we will be releasing our first book, The Magnolia Story, on October 18, 2016! In it we share how Chip managed to grab my attention from the very start, about our first flip house collaborations together, our first real successes, and even the big building project that almost cost us everything. The story details the driving factors that led us to build a multi-faceted, recognized brand, all while raising a family and a farm. And how through it all the relationship Chip and I share has remained the constant and the theme of our past twelve years together. Getting to tell this story together was like uncovering and reliving half-a-lifetime's worth of happy memories, failures, and adventures. I can't wait to share it with you and hope you enjoy the story, our story, as much as we are enjoying the privilege and opportunity to share it with you.
So: October 18th is when you can expect to find The Magnolia Story on the shelf in your nearest bookstore! And, as the press release from Thomas W Nelson Publishing announces, "a design book from Joanna" will follow in 2017.
Before all that can happen, though, there are more episodes of Fixer Upper to be seen! Season 3 continues Tuesday nights at 9 PM EST on HGTV.  
(Photo credits: Fixer Upper update via Instagram)