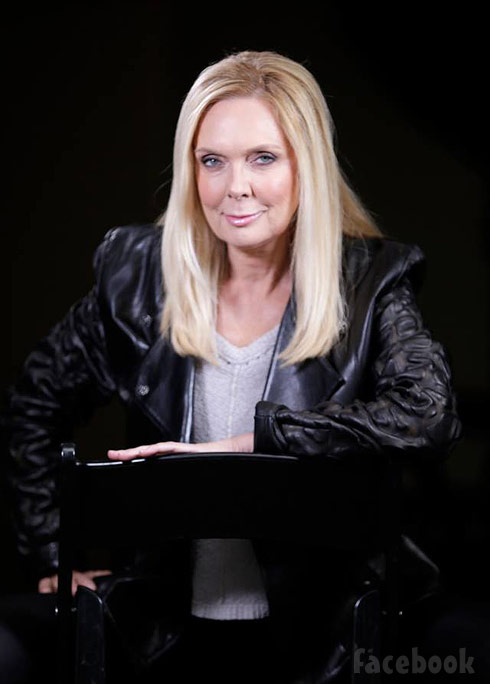 Earlier this year former Teen Mom star Farrah Abraham's mom Debra Danielsen announced that she would be publishing a book chronicling her experience being scammed out of more than $250,000 by a man she met (but never actually met) via an online dating site. More details about the book, titled Vapor, have since been released, including that it will be published by Ellora's Cave, the same company that published Farrah's erotic fiction trilogy, and it will be released on November 21, 2014.
"I'm divorced; we all know that from Teen Mom," Debra said in an interview with The Ashley's Reality Roundup. "It's hard to date when you're divorced. Do you go sit at a bar to meet someone? I don't have the time to do that, and you want to be more discreet about who you hook up with, so I went on a dating site. I mean, who hasn't seen those dating site commercials on TV? But you never know who you are actually talking to when you are on a dating site. You never know where they're at in the world when you're talking to them."
Debra explains that Vapor "is about me going on the dating site, and eventually finding what I thought was a business opportunity but turned out to be a scam."
From the publisher:
Cybercrimes are easier than ever to pull off. No global police force exists to go after these criminals, so cybercrimes are increasing exponentially year after year. The FBI estimates that over twelve million cybercrimes and scams occurred in the United States in 2013 alone.
Scammers are sophisticated, professional and intelligent. They target potential victims carefully and these victims include homemakers, celebrities, professional athletes…anyone with assets! Successful scams result in CEOs stepping down and people being driven to commit suicide. If you are on the internet in any way—a dating site, email, shopping, social media or through a business—this book is a must-read to protect your assets.
Vapor is a true story about being conned out of $250,000 through a Match.com scammer supposedly named James Richardson. Vapor includes industry expert recommendations for both individuals and businesses to protect their assets from cyber scammers. Read this so your assets don't get vaporized! You are a target.
Fans of VH1's Couples Therapy may recall that Farrah Abraham brought up the topic of Debra being scammed on the show. Farrah said that her mom told her, "A person I'm dating and who I was also a business partner with ended up dying in Malaysia…" Farrah says that her mother and this man "were, like, going to be engaged and married when he got back from Asia." Farrah adds that her mom signed "a partnership agreement for like an oil development deal" and "so she like sends him 250-something thousand dollars…" (Click here to watch the clip.)
Debra reveals in her interview with The Ashley that she had only recently found out she had been scammed when she was contacted by VH1 to appear on Couples Therapy. "When we filmed Couples Therapy, I think it was truly a good thing for me," Debra said. "It was stressful, because the show's producers have their agenda, and where they wanted the conversation to go just wasn't accurate. But it was kind of healing for me to go out there and actually film with Farrah. We bonded and talked a lot and she could feel my pain and emphasize with me. We both understand what it's like when people take advantage of other people."
Debra said of opening up to her daughter Farrah, "It was really difficult, but she's actually been scammed before, so she understood. She was really warm and loving to me." (Fans of Teen Mom may recall Farrah being victimized by a scammer when trying to purchase a car.) "Also, [my ex-husband] Michael was very comforting to me," Debra added. "I was so happy to be with them at that point."
2014 has not been easy for Debra either. Back in July she lost her father, Goodmond H. Danielsen, Jr., who died of cancer. And although we don't know any of the details, Debra was apparently hospitalized for something quite serious a few months ago. Her ex-husband, Michael Abraham, posted the following on Facebook on August 11:
It's been a long weekend of hope since last Friday but my prayers have been answered! At the moment Debra is recovering and hopefully going home from the hospital soon. I can say at this point we are thankful to God but we are still waiting on final test results and testing. I want to thank each and everyone if you for your thoughts and prayers for Debra … We are grateful for each and everyone of you! Never forget that moments fly by us all way to fast and we must hold close the time we are given be with each other!
Since the hospital stay it appears as things are really looking up for Debra. She is currently living in Alki Beach is West Seattle. "Seattle is so beautiful that I could just stare at it for hours," she wrote recently on Facebook. "Love the food, people, and culture." When asked about whether or not she regretted being on Teen Mom by The Ashley, Debra revealed that she is doing more than just writing these days. "I do acting and modeling and would like to be known for everything else that I do, other than just being on Teen Mom," she said.
Here is some more information about Debra's book Vapor from the publisher:
No one believes they can be scammed. Everyone likes to think they are not gullible.
If you are a United States citizen or living in the United States, count yourself among the most blessed people on the planet. You may say, "I am not rich," or, "I don't have a fancy car, a big house or a fabulous wardrobe." Scammers are looking for people just like you and me. Their targeted "clients" are regular people who work hard every day. People who sympathize with their plight and who will lend a "temporary" helping hand to a person caught up in a difficult situation. Still think you are not vulnerable? Believe you have the wisdom, strength and understanding to be strong and not be conned? Okay. I admire you. But, everyone has a weakness. It is fairly simple for a highly educated, professionally trained scammer to develop a customized business opportunity that will fit your particular weakness perfectly.
So, where is your weak spot? Is it in a relationship, loneliness, unemployment, grandchildren, or other things? You can be certain there is an organization of scammers out there who are proactively constructing compelling scenarios that will address your weakness for the sole purpose of stealing your assets. These assets can be anything of value to you. Be alert. Don't hand-out money, computers, jewelry, watches, or love. Keep each one of these blessings close to your chest.
Click here for more information on Vapor from the publisher, Ellora's Cave!