As a child of the 1990s and a teen of the 2000s, I played witness to the rise and fall of many fads. I also realized there were many similarities between trends in each decade. Apparently we have a real need for ugly footwear and musical trios composed of brothers…
For this list, I tried to remain objective in deciding which decade had the superior trend.
Razor scooter : Rollerblades
In the 1990s, nearly 26 million Americans used rollerblades. By 2000, the number dropped off to, like, 10. Still, skates are way more efficient modes of transportation than those Razor scooters. Winner: Rollerblades
Emo : Grunge
This is a tricky one. Both had distinct styles in terms of fashion and music. I will forever have a place in my heart for grunge-era flannel shirts and Pearl Jam, but this contest has to go to emo. With bands under the emo umbrella ranging from Jimmy Eat World to My Chemical Romance, I think the music genre found more mainstream success. Winner: Emo
Dora the Explorer : Barney
Barney teaches kids to clean up the house. Dora teaches them to be bilingual. Winner: Dora the Explorer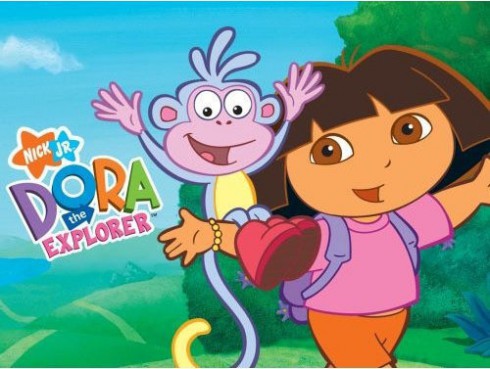 The Jonas Brothers : Hanson
Both are Grammy-nominated groups of brothers. Hanson provided us with one of the most ubiquitous and catchy songs of the 1990s, MMMbop. However, they seemed to fade from the spotlight pretty quickly. They are still making good music today, but the Jonas Brothers seem to be better at stretching out their 15 minutes. Winner: The Jonas Brothers
CGI movies (e.g. Shrek) : Animation (e.g. The Lion King)
The nostalgic part of me really wants to hand this one to animation, a la The Lion King and Pocahontas. But, realistically, computer-generated imagery (CGI) is superior. CGI also provided us with a consistent stream of hits in the early 2000s: Shrek, Monsters Inc., Finding Nemo, The Incredibles, Up, etc. Winner: CGI
Destiny's Child : Spice Girls
Where would this world be today if Destiny's Child never provided us with Beyonce? It would be a sadder place, to be sure. Still, this one has to go to the British girl group. I'm partially biased because the Spice Girls were my first music obsession. (I even performed a hula-hoop routine to Spice World music in both second and third grade.) However, statistics back me up as the Spice Girls are the No. 1 best-selling girl group in music history, beating Destiny's Child out by some 30 million records.
SpongeBob : Ren & Stimpy
Both animated shows could be slightly crude by Nickelodeon standards. Still, SpongeBob SquarePants managed to be way more mainstream. With popular product lines and a feature-length movie, the sponge who lives in a pineapple under the sea wins this contest. Winner: SpongeBob
Crocs : Jelly shoes
Even though I'm still a little bitter about losing a jelly shoe in a quick-moving river, the neon sandals still win over love-to-hate Crocs. Plus, they made a resurgence in recent years and I don't see that happening with Crocs no matter how hard the company tries to reinvent them. Winner: Jelly shoes
iPod : Walkman
Even if you had the skip protection, the CD player was still subject to randomly stopping or skipping. Plus, with a 20-ish song capacity, it could only get you through the first two hours of a field trip bus ride. The original iPod, which was unveiled in 2001, put "1,000 songs in your pocket." Winner: iPod
Heelys : Moon Bounce boots
Both are impractical forms of footwear: Heelys allow kids to skate around in their tennis shoes while Moon Bounce boots eliminate the need for a trampoline. However, Moon Bounce boots are definitely more for play (and they're not even that realistic) while Heelys can get by as regular shoes. Winner: Heelys
Drake & Josh : Pete & Pete
This is another tough one as Nickelodeon shows about two brothers were legitimately funny. I would say Drake & Josh has the edge, but that type of comedy seemed to be more common in the 21st century. On the other hand, Pete & Pete was ahead of its time. (It was also the only kid show my dad would agree to watch with me.) Winner: Pete & Pete
Deal or No Deal : Who Wants to Be a Millionaire?
Like a shooting star, Deal of No Deal broke into American airwaves in 2005. The first season drew in 10-16 million viewers per episode, but dropped off after that and the show ended in 2010. Who Wants to Be a Millionaire premiered in 1999 with Regis Philbin as host and initially drew 30 million viewers per nighttime episode. Similar to the fate that Deal or No Deal would later have, Millionaire's popularity steeply declined in subsequent years. However, it's still in syndication and the next season will premiere in September 2013 with Cedric the Entertainer as host. Winner: Who Wants to Be a Millionaire?
After tallying that all up, looks like the better decade for trends was the 2000s! I'm actually kind of surprised. In my heart, I think the 1990s will always be superior.
Do you agree with my picks on these trends? Which major trends did I forget?