Ke$ha showed up at the 2013 Kids' Choice Awards looking as though she had just left Xzibit's new reality show Pimp My Singer! The 26-year-old was a cross between Bootsy Collins and David Lee Roth in a powder blue (almost lavender) tux with matching hat, star-shaped jewel-rimmed sunglasses, and of course a walking stick. (No, she wasn't wearing a feather boa or acrylic goldfish tank elevated platform shoes.)
Accompanying Ke$ha in a matching complimentary orange outfit (including the hat and walking stick) was her 13-year-old little brother Louie Sebert:
I can only imagine the conversations these outfits inspired in homes across the country! "Mom, what's a pimp? Isn't that what Clearasil's for?"
But perhaps more important than the impact Ke$ha and her little brother's pimpilicious fashion choices will have on American families is the impact they will have on one particular reality star and her attorney!
(Miss out on the whole Teen Mom 2 Jenelle Evans Ke$ha meme? Click here to get all caught up!)
Ke$ha stopped to talk with an E! correspondent while walking the red, purple, orange and yellow carpet and Ke$ha described her look by saying, "I wanted to go a little Willy Wonka and a little pimp." She later added, "with a little Elton with the glasses." Louie joined Ke$ha towards the interview and let the real cat out of the bag! Prepare for a face palm:
That's right! Dumb and Dumber! What's that? You don't remember? This should refresh your memory: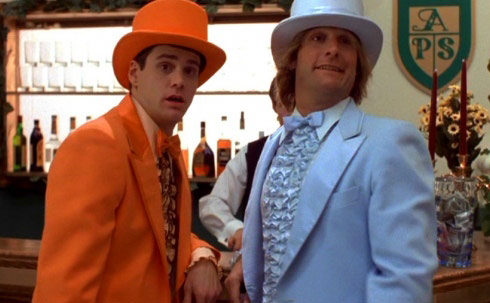 Ke$ha wasn't just in attendance to show off her dumber and dumber duds, however, she was also there to perform! The initial music was from her hit "We R Who We R," but eventually she began singing her new single "C'mon." Here's a video of her performance:
And one last parting shot of Dumb 🙂
I have to confess I kinda like it — something that doesn't happen all that often for me with Ke$ha looks.