In honor of Father's Day, the true crime specialists at Investigation Discovery have put together a video featuring "5 Dads Who Won't Be Getting Father of the Year Awards." The list includes kidnappers, murderers and rapists like Ariel Castro, Larry Ray, Josef Fritzl and John List. And also former Teen Mom 2 dad David Eason. Needless to say, Jenelle Eason was not happy about David making the list.
"This channel is false and bunch of BS," Jenelle wrote on Facebook as she shared Investigation Discovery's video. "You put my husband on the most frightening list when he was PROTECTING HIS CHILD FROM BEING BITTEN BY A DOG IN THE FACE," she added.
Jenelle then argues that she has been in relationships with guys much worse than David:
This is absolutely absurd. I've been physically beaten by ex's, slapped in my face, almost died, ran over by a truck from my ex …. and NONE OF THIS was while I was in a relationship with David Eason. You have him on a list for SERIAL KILLERS and KIDNAPPERS AND ITS ALL UNTRUE.
So what exactly does the ID video say about David? We will include the video in its entirety below, but here is the segment on David: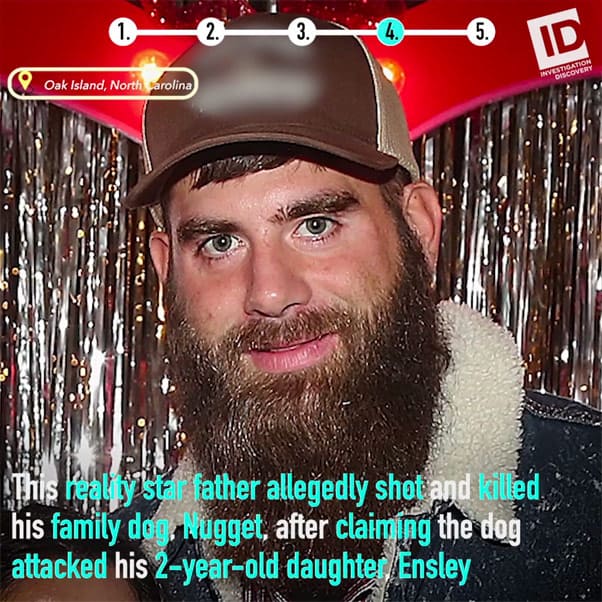 David Eason, husband to MTV's Teen Mom star Jenelle Evans, made headlines after defending the alleged kill, claiming he was protecting his family.
Evans expressed her devastation regarding Nugget's death in an Instagram post.
Since then, Evans has reportedly temporarily lost custody of her three children, including her daughter that she shares with Eason. Authorities have not charged Eason with any crime and say they won't until Evans comes forward to report the alleged crime.
As it turns out, Jenelle is partly right with her accusations of falsity and BS. Jenelle is actually a former Teen Mom 2 star, and not a Teen Mom star. Also, Investigation Discovery geo-tagged David's dog murder as Oak Island, North Carolina when it was actually Riegelwood, North Carolina.
Everything else that is stated in the video seems 100% true.
Jenelle then suggests that she has receipts — for what it's unclear. "IF YOU WANT A STORY I CAN CERTAINLY GIVE YOU ONE. With pictures and all…."
She rushes to the defense of David, who she says is a "GREAT FATHER" and "the best anyone can ask for." She then lets the folks at Investigation Discovery know that God sees what they are up to:
BUT THIS…. This is f**king ridiculous. You base my husband being dangerous off of protecting his children? I've been through the ringer in life but one thing David has done for my family is being a GREAT FATHER. He is the best anyone can ask for. The children adore him and when you make some false "special" to get your channel ratings is SICK. Our children are getting old enough to see all of this and the media is cold hearted. They NEVER look out for the best interest of your family or children.

God will see your actions. 👋🏼✋🏼👋🏼✋🏼
Jenelle followed up with another post in which she appears to blame the network for ruining Father's Day, despite the fact that it was pretty much ruined already given that David can't even see his children outside of a court-approved supervised visit. "Ruin Father's Day before it even begins," she wrote. "😤 NIiiiiiice."
Here is the full video clip from Investigation Discovery:
Hmmmm… The Facebook video is gone? Perhaps Jenelle's army of supporters reported it? Regardless, Investigation Discovery shared the same clip on Twitter:
We won't be saying "Happy #FathersDay" to these guys. pic.twitter.com/vHADYnVHXf

— DiscoveryID (@DiscoveryID) June 15, 2019
Asa Hawks is a writer and editor for Starcasm. You can contact Asa via Twitter, Facebook, or email at starcasmtips(at)yahoo.com