Playing the stoic Don Draper on Mad Men doesn't leave a lot of room for Jon Hamm to debut his goofy side, which is why it was so much fun to learn that he would be starring in a Sesame Street segment this season! In an episode premiering Thursday, April 18th, a bearded Jon Hamms it up with Elmo and presents the word of the day, which was sculpture, and teaches us all about the art form.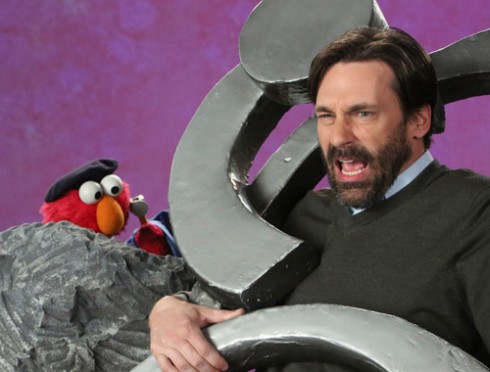 If you're wondering why Jon seems like a natural teacher, it's because he really was one! After college, Jon returned to his hometown high-school in Missouri to teach eighth-grade English. (Fun fact: he had The Office actress, Ellie Kemper, as one of his students!)
Jon joined a long list of A-list celebs who are guest-starring on the show this season, which includes Melissa McCarthy, Steve Carell, Halle Berry, Don Cheadle, Maya Rudolph, and even Supreme Court Justice Sonia Sotomayor.
Luckily, we don't have to wait until Thursday to enjoy the fun, as we have Jon Hamm's word of the day segment with Elmo right here:
My guess is that you won't look at Don Draper the same on the next episode of Mad Men this upcoming Sunday!
(Photo: Sesame Street)