As MTV's original Teen Mom series finishes its run with a seemingly never-ending series of follow up and check in specials, we're finding out these young moms won't be leaving the video cameras behind any time soon as they seem to each be working on individual spin off projects.
Maci Bookout has denied any new series, but she was recently photographed yet again with a camera crew in tow. Farrah Abraham has been quite open about her new reality series, and Catelynn Lowell's dad confirmed she, too has a project in the works. The only one left is Amber Portwood, but with MTV's recent announcement that there will be an "Amber Behind Bars" special with Dr. Drew, it seems like only a matter of time before her new "Inside the Walls of Rockville Correctional Facility" docu-series is announced.
As Teen Mom fans anxiously await further announcements from these young moms as to what their shows will be like, I thought I might put together a list of concepts that I would like to see.
HERE COMES GARY BOO BOO
Actually, the full title (for those of you familiar with Gary's infamous nonsensical outburst) is Here Comes Gary Boo Boo Dip Bop Bop Booger, and the show will shift the focus from Amber to the Gare Bear as he raises daughter Leah with the help of his mom and good pal Evan, all the while exposing the world to his laid back "It's Gary Time!" philosophy of life. The show will feature a lot of reclining, a lot of guitar pickin' and sangin', and a lot of Affliction shirts.
EVERYBODY LOVES BENTLEY
The true star of Teen Mom takes center stage as the cameras focus in on the awesomest free spirited and fun-loving little dude on the planet. It's all Bentley all the time on this feel-good series as the drama and conflicts are left behind in favor of round-the-clock playtime! Viewers will get to watch Bentley grow up, become a world-renown pop singer, BMX biker, and Teen Beat cover star.
And only because the Photoshop work was already done for a previous post, let me also suggest…
THERE'S SOMETHING ABOUT MACI
After leaving Kyle King behind, Maci Bookout continues her journey to find the perfect husband and father for Bentley. Apparently a dog gets severely injured along the way.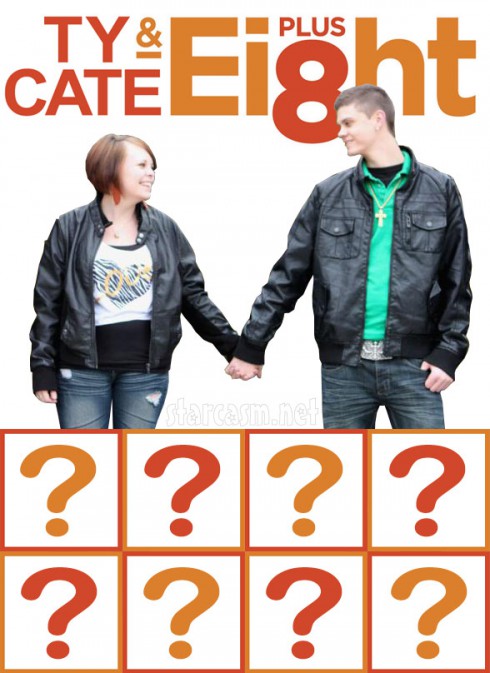 TY & CATE PLUS 8
Catelynn Lowell achieves her career goal of becoming an adoption counselor, and Tyler Baltierra follows through on his plans to become a counselor for troubled youths. But their famously HUGE hearts set their lives on an entirely new path as they adopt the eight children they feel they can help the most!
AMERICA'S NEXT TOP MODEL IDOL CHEF FITNESS MATCHMAKER APPRENTICE
Farrah Abraham hosts a reality competition series in search of her new assistant (and possible new husband). The contestants must compete in a series of challenges in which they demonstrate they have the same extensive skill set as their potential mentor, which means modeling, culinary arts, singing, fitness instructing, writing, parenting… The show will be hosted by Farrah Abraham with a judges' panel that consists of Farrah Abraham. Here are some more of the credits from the series:
Director: Farrah Abraham
Executive Producer: Farrah Abraham
Theme Music By: Farrah Abraham
Styling: Farrah Abraham
Key Grip: Farrah Abraham
Stunts: Debra Danielsen
So which show would you most like to see? Take the poll!
(Although I sure wouldn't mind tuning in every week for my "It's Gary Time!" fix, I think I'd have to go with Everybody Loves Bentley. Why? Because it's true!)