It appears that Teen Mom 2 dad Jeremy Calvert has FINALLY moved on from his on-again-off-again-on-again-off-again ex Brooke Wehr, as he officially revealed on social media that he has been dating a young lady from Ohio named Desi Kibler.
Jeremy made the announcement with a series of lurvy durvy Instagram photos, including the one above, in which you can see little pink hearts emanating from Jeremy as he rides with Desi. "Road trips with babe……" he captioned the photo, adding the hash tags #sohappy, #grateful and #shesamazing.
Prior to Jeremy's post, Desi shared a similar photo on Twitter: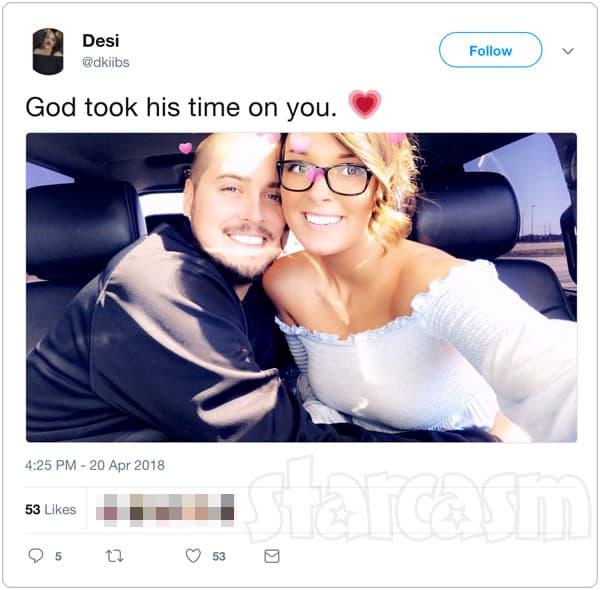 Desi, who I believe is 22 years old and from Canton, Ohio, had actually been open about being in a relationship with Jeremy for a while on Twitter. She even posted a brief video clip with Jeremy as he was laying in bed:
obsessed w him, and us. #sorrynotsorry #mine #luckiestgirlintheworld pic.twitter.com/VedDIzZiuQ

— Desi (@dkiibs) April 19, 2018
Earlier today, Desi stirred things up a bit when she shared a sweet tweet about missing Jeremy when he leaves for work. The tweet included some serious relationship emoji — like a diamond ring, a house, and a couple with two kids!
One follower responded by suggesting Desi might be trolling Teen Mom 2 fans a bit. "I feel like you're just messing with people and it's working and it's life ❤️❤️❤️" she tweeted.
Desi responded by explaining "they are emojis and what I hope to happen in our future. Like anyone else that's dating and in a relationship." She added: "People are too involved and worried, but we're happy and that's what matters ??"
The follower then replied: "Right I get that! I think people are thinking like y'all are going to run off and get married tomorrow ? which is funny because people are wayyyy too into your business lol."
"Regardless, even if we did," wrote Desi, "it's no one's business but our own. We care about each other and people amaze me with how much they care about others lives. Hahaha but yes girl!"
Of course, the negative comments continued to pour in, and Desi put together a statement tweet to address the haters:
I'll make one statement to all the negativity, and then I'm done. This has been going on longer than any of y'all know, kept it under wraps until we were ready. Thank you to all the positive people congratulating us. Love y'all ??☺️☺️
Desi previously hinted that a #Desemy baby might be coming in the near future when she tweeted "my baby fever is real" back in March, along with a ?? baby emoji.
And a baby isn't the only way Desi is looking to expand her happy family with Jeremy, as she recently shared a series of tweets that seem to indicate she has talked him into letting her get one (maybe two) pet pigs! The pet pig relationship mojo seemed to work wonders for Chelsea and Cole DeBoer, right?
I wish Jeremy and Desi all the best and hope they are at the beginning of what turns out to be a very lengthy happy ending! I covered all the Jeremy and Brooke drama and it was clear that relationship was not healthy for either of them, so hopefully I won't be doing any more Jeremy Calvert tea spilling break up posts. 🙂
UPDATE – It seems Desi is trying to play catch up as far as being a Teen Mom 2 significant other with legal problems! Less than two weeks ago she was arrested in Ohio for DUI and drug possession, only to be released a couple hours later and arrested for DUI again! Jeremy was quite the good boyfriend as he stepped up and posted her bail the second time around. Click the link for all the details from the arrests.