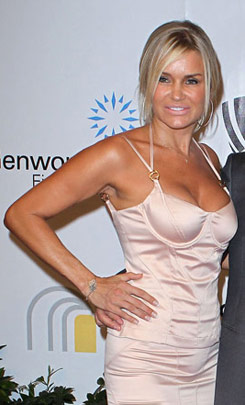 Yolanada Foster is the most recent new addition to The Real Housewives of Beverly Hills. The former Dutch model is the ex-wife of Mohamed Hadid, who just so happens to be pals with Housewife Lisa Vanderpump.
If you're a fan of the show, you know that most of the ladies from the Hills aren't hurting in the pocket books, unlike reports on many of the other franchise counterparts. Radar has unearthed some details from her divorce settlement from Mohamed that goes a long way in explaining just how well off Yolanada is.
She filed for divorce back in 2003 and here are some of the particulars on the settlement that left Yolanda feeling pretty good about her financial situation.
-> She retained ownership of their $6 million Malibu mansion.
-> On a random tip she got an Arabian horse.
-> She became sole owner of Hadid Interiors.
-> "Several bank accounts."
-> A Range Rover and an Escolade because a lady needs her rides.
-> A one time payment of $3.6 million.
-> $30,000 a month in child support for the three children they share; Jelena, Isabella and Anwar.
-> She also was receiving $10,000 a month in spousal support until she married David Foster, who you can find out about in our previous profile here.
-> Mohamed also pays for private school for the children and a full-time live-in nanny to assist Yolanda with raising her children.
An interesting post note: The two had a pre-nup but it was declared null and void when the two settled.