Some of the Teen Mom 2 cast are reportedly upset after MTV went WAY out of their way to accommodate Jenelle Eason so that she would be included in the upcoming Reunion show, yet they did next to nothing for co-star Chelsea Houska DeBoer, who was in a similar situation.
In case you missed it, Jenelle was not in attendance last weekend when the cast was originally scheduled to shoot the Reunion plus other specials with the entire cast. Despite Jenelle's absence, there was still a TON of drama as Briana DeJesus and Kail Lowry reportedly got into multiple heated altercations, including Briana having a "complete meltdown" by storming the stage at one point and hurling a vase while her sister Brittany grabbed Kail by the hair.
That incident went down before the actual Reunion was filmed, and numerous cast members bailed later that night to return home — including Chelsea.
Fast forward and Dr. Drew and an MTV crew were in North Carolina today at a makeshift studio set up for Jenelle to film her segment for the Reunion. "They paid to fly an entire crew to Jenelle and essentially built a set there for her to film because she refused to go to the last reunion," a source reveals to The Ashley's Reality Roundup.
And what about Chelsea — who needed to film her Reunion segment as well? "Apparently they didn't think Chelsea was important enough to do that for. They simply set up a Skype call between her and Drew – that happened while he was in North Carolina to film with Jenelle!" the source reveals.
As if that wasn't bad enough, a separate crew source tells The Ashley: "They didn't want Jenelle to have to start super-early so they made Chelsea go first, even though she is two hours behind Jenelle, time-wise, because she's in South Dakota."
Chelsea tweeted about the whole thing moments ago and reveals she didn't know the extent to which MTV was going all out for Jenelle:
They just had me webcam in yesterday morning ??‍♀️ I didn't kno they were going all out like that

— Chelsea DeBoer (@ChelseaHouska) June 4, 2018
In addition to setting up a makeshift interview set in what appears to be some sort of hotel lobby, production also created a set that is reportedly very similar to the one in New York for Jenelle's segment with Dr. Drew. That fact not only upset Chelsea, but also Kail Lowry and Leah Messer.
"The other cast members are p!ssed too because they had to take time out of their lives to go all the way to New York City to film, find childcare, etc. to fulfill their obligations to the show, but Jenelle once again threw a fit and got treated like a VIP!" says the source.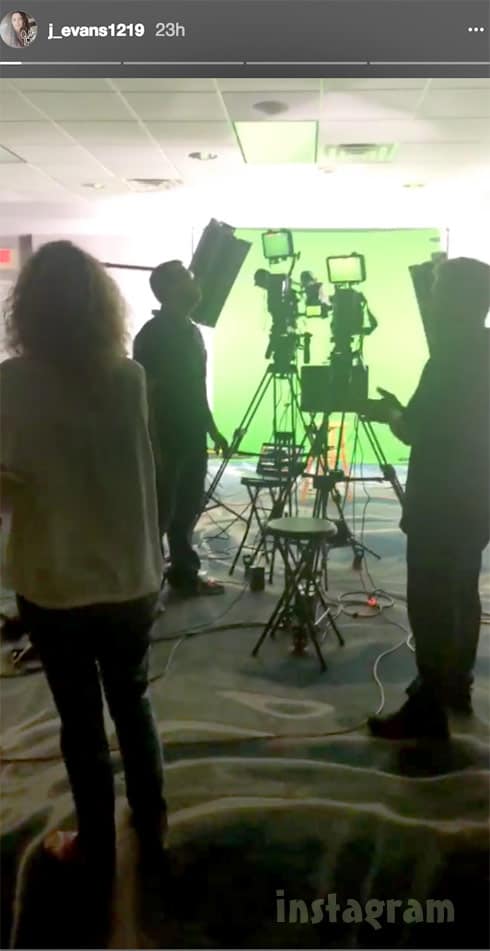 Jenelle posted numerous photos and a brief video from her filming today, including a photo with Dr. Drew. "Did my part!" Jenelle boasted in the caption. "Had a good conversation yesterday about many different things that will happen later this season. I think this is the most comfortable you will ever see me in an interview. #StayTuned #TeenMom2 #Reunion ??✨"
She captioned the gallery of photos of her interview set below and wrote: ""Sit still, look pretty." ???
The Ashley's source adds that Teen Mom 2 producers are currently reevaluating how they do the Reunion specials. "There is NO WAY they're going to keep doing the reunions this way because it's clearly an unsafe environment to have all of them together," the source says.
I'm imagining something similar to those talking head political debates on the news channels with five different of insets of people screaming at each other — and that sounds AWFUL! Once again, I do not envy the Teen Mom 2 producers.
UPDATE – Jenelle has responded to the criticism and insists that it was not her idea for MTV to go all out in a series of Twitter interactions:
TWEETER: so this b!tch @PBandJenelley_1 causes all this bs for the the crew and other cast members @KailLowry @ChelseaHouska @TM2LeahDawn doesnt show up to the reunion always throwing tantrums and you STILL film her ??‍♀️??‍♀️ done with @MTV @mjfree @TeenMom

JENELLE: Chelsea, Leah, and Kail should stick to their storylines they maybe they wouldn't get caught up into drama like I'm steering away from. They paid thousands for these girls and then they quit and leave? Do your job ladies. Mind your business.

JENELLE: Everyone is mad but this was NOT my request from the beginning. Larry asked me if I was willing to film a separate segment like Farrah… so I said sure. They offered to come to me I said sure. I did NOT demand a damn thing and woke up early just like everyone else.

TWEETER: Yea because David would never allow you to leave alone on a trip to nyc with out him ?????????????

JENELLE: No, because I wasn't about to go and be cornered into a wall by bitches without my husband present. ??‍♀️

TWEETER: Just like the time you refused to stay in the same hotel, left all of the reunion filings early, refused to come to this one… not your request? Ok.

JENELLE: yeah… I rather get an Airbnb where I have an entire house vs. a tiny ass hotel room that the cast is staying at… duh. #CommonSenseJenelle
Asa Hawks is a writer and editor for Starcasm.