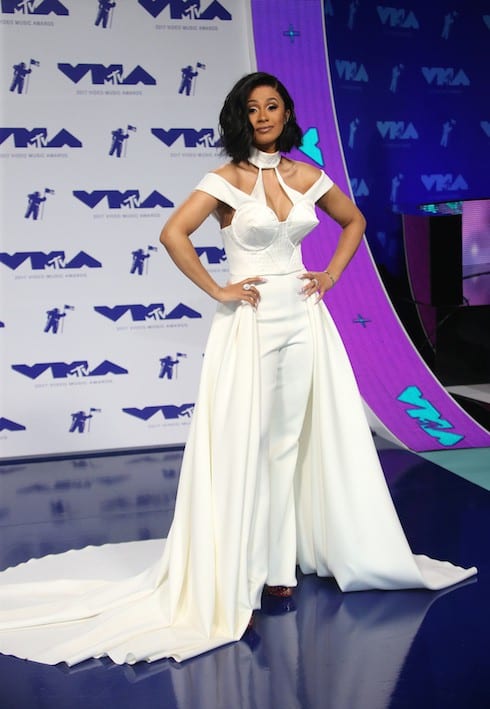 The last time we had major relationshop drama involving Cardi B, she was still a member of the Love & Hip Hop New York cast and sharing the insult-ridden letters her prison boyfriend Tommy sent because he felt she wasn't paying enough attention to him. And before that, she was teasing a relationship with Swift. But for the last few months things have been seemingly great between herself and Offset, making them officially the hottest couple in hip-hop and probably all of music.
Which is why, just a few days ago, this particular Instagram update exploded across social media (make sure you follow the caption's instructions and watch all the way to the end):
So, is Cardi B engaged to Offset? The two have been as high-profile as ever lately–they were in Las Vegas for the Mayweather–McGregor fight on Saturday, before hitting up the MTV VMAs the next night. It wasn't until the red carpet at the VMAs, though, that the two were actually asked whether they were actually ring shopping or just winking at their millions of fans.
Cardi's first official response to the question was also a bit of a tease. She quoted Rasheeda Frost's "Marry Me," then remained coy when pressed:
✨ @iamcardib addresses engagement rumors on the #VMAs red carpet: pic.twitter.com/SIXDsYo212

— MTV (@MTV) August 27, 2017
Basically, Cardi would totally get married, because "every woman wants to get married" and "it's never too early to get married." It means everything and nothing. It's the perfect non-answer! Cardi could go into politics. Fortunately, she chose a more noble line of work.
(Photo credits: Is Cardi B engaged to Offset via Instagram, FayesVision / WENN.com; h/t to VH1)