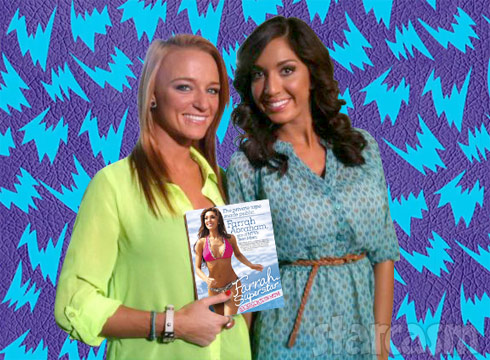 Teen Mom OG's Farrah Abraham put all the past drama behind her as she celebrated co-star Maci Bookout's engagement to Taylor McKinney.
Abraham told UsWeekly, "After her new fiancé proposed, they came to the studios to finish our reunion taping. I stopped by their green room to congratulate them. We all hugged and embraced and congratulated Maci! I look forward to supporting their engagement and look forward to their wedding."
Things haven't always been so hot between Farrah and Maci. Bookout nearly quit the show when she learned that MTV intended on bringing Abraham back. Maci told producers at the time, "I'm not doing it. You're not going to talk me into it. There is no discussion. We don't need a second to talk, we're on the same page. This is it. I'm p!ssed off! I'm really, really mad. And then, as far as I'm concerned, you guys can leave now. This is over. I mean, I'm done."
On a number of occasions since then, Farrah's had plenty of not-so-nice things to say about Maci and her other co-stars.
Speaking of the full Teen Mom OG cast, it wasn't lost on Farrah that she's the only one not engaged or married now. Farrah offered a comment on that situation: "I'm excited to see their plans come together on their wedding days! Hopefully this engagement luck rubs off on me as I'm the only single lady left."