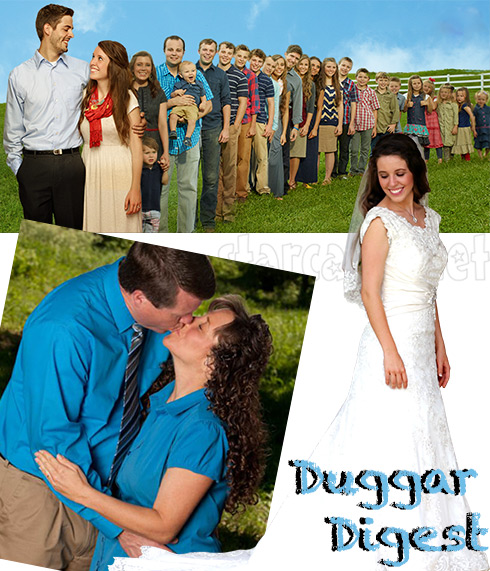 In this week's 19 Kids and Counting on TLC, with Jessa Duggar and Ben Seewald's wedding quickly approaching, he sets out to design a special ring while she goes flower shopping with her sisters. Younger brothers James and Jason also help out by testing recipes for the rehearsal dinner.
In real-time, Jessa made news recently for some critical comments about her fellow Christians. Meanwhile, sister Jill Dillard and husband Derick Dillard continue their preparations for Baby Dilly in the final homestretch, but not without (literally) running into a controversy of their own…
Jessa Seewald says she and God are judging people for their sins.
Jessa went all Facebook preacher last week with a long post about sinning and defended calling people out for "lying, cursing, pride, anger, bitterness, disrespecting of parents, lust, pornography, fornication, adultery and other sexual sins."
I will speak to you a hard truth. I do not write this because I think that it will bring me popularity. It won't. But it is Truth from the Word of God: the Bible.
To not tell people this is to hide the truth from them. To keep silent is to not care for their eternal destiny! I care about you, and this is why I am speaking out… If anyone tries to confront [unrepentant sinners], their attitude and response is, "You live your life, I'll live mine. Don't you tell me what to do! Only God can judge me!"
They don't even realize what they're saying. God's judgement isn't something to be taken lightly! It should scare you! Man's "judgement" is a 1000x lighter… usually just a voicing of disapproval. But when unbelieving, sinful men die and stand before God, He justly condemns them to hell.
Jessa went on to debate arguments she often hears people make when confronted about their "wrongdoing." She concluded, "Repent! Turn away from sin, and to Jesus Christ today! Be saved from the wrath to come."
She typically moderates the most severe comments on her Facebook page, but some responses from people who respectfully disagreed are still visible — such as one woman who pointed out that Jessa's sheltered upbringing may make it difficult for her to understand others' perspectives. That person explained, "He is the only one that knows what circumstances have happened in that person's life, and what they have gone through. This is why we are not to judge lest we be judge. We cannot know the heart of another person. So when you look down at a person for lying or being caught up in a sexual sin, you don't know what life they had to be lead to that."
Derick Dillard angers animal lovers.
Jill Dillard's husband (in cahoots with Ben Seewald) got into some hot water of his own this week when he posted a video of him hitting a cat on his sled. Although it doesn't look like the cat was injured, the clip may be upsetting to some…
Unlike on Jessa's Facebook page, almost all of the comments on Derick's post are extremely negative.
"Are you serious?! I was a fan, but not anymore," one commented on Instagram. "How disgusting are you to think this is ok?!! And you just taught the innocent kids around you that this was a funny thing to do."
Another added, "I just can't with this video. The poor cat is completely unaware of what's about to happen. Great job @derickdillard for appearing as a thoughtless, careless human being. Way to set an example for the other adults and children around you."
Pregnant Jill Dillard makes friends with basketball players.
In an effort to end on a positive note, Jill Dillard joined Derick in a trip to his alma mater this week to watch the Oklahoma State women's basketball team. Afterward, she met up with the players for a cute picture of them duplicating her belly with their basketballs.
Back in Arkansas, Jill posed on her own with her sizable 36-week bump… There are just three weeks to go until her due date!
19 Kids and Counting airs on TLC on Tuesdays at 9/8c.