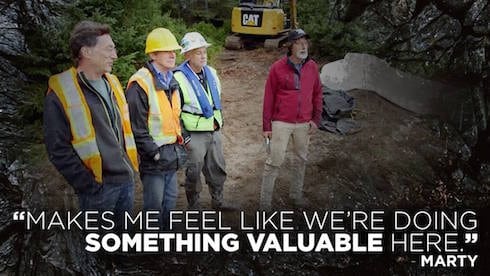 It's been a while since we've had a proper Curse of Oak Island Season 5 update, and, as usually happens between seasons, fans are starting to wonder whether the show's been renewed. We last covered the topic all the way back in March, shortly after Season 4 ended, following a report that the show had indeed been renewed and was prepping for the cameras. And, the week before that, Oak Island producer Kevin Burns all but confirmed a fifth season, adding that it's always a "hard sell" to get the Lagina brothers to come back for another year–but that he believes there are "10 seasons" worth of material to film.
Now, thanks to a dynamite rundown over at Monsters and Critics, we have the most comprehensive Curse of Oak Island Season 5 update yet–and it will probably come as no surprise to hear that it sounds like the fifth season has already been shot. Exhibit A is a recent Instagram post by Shane Ross, a Hollywood editor whose credits include 24 Oak Island episodes (including most of Season 4):
(It's worth pointing out that Shane offered a similar update in the summer of 2016, when he began editing Season 4.)
Exhibit B is the number of photos Rick has posed for with fans up Nova Scotia way since the summer began; he's certainly making no effort to hide the amount of time he (and presumably Marty) are spending on or near their lucrative island. Conspiracy theorists, take note of the bottle Rick is holding in the photo below. Is it the same throwback Dr. Pepper style in Shane's photo above?
Hanging with a couple real life treasure hunters at #OakIsland… pic.twitter.com/fcdFaYa6yt

— shakes (@BRADYJG1) August 7, 2017
Finally, Exhibit C is Oak Island regular Jack Begley's appearance on the South of the Straits podcast last spring, during which Begley confirmed that the show would be back.
History, in a response to Monsters & Critics' inquiry, said that an official renewal hadn't yet been confirmed. But that's basically par for the course with Oak Island at this point. In addition to the evidence above, consider that it's also one of the most popular shows on the network. You don't just let treasure like that…disappear.
Given that Seasons 2, 3, and 4 all premiered in early November of their respective years, look for the first episode of Curse of Oak Island Season 5 to drop around the same time in 2017.
(Photo credits: Curse of Oak Island Season 5 update via Instagram; h / t to Monsters and Critics)