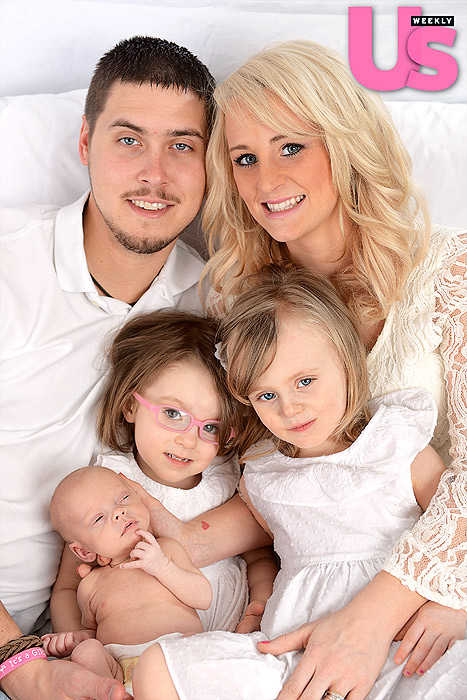 February 4, 2013 Teen Mom 2's Leah (Messer) Calvert gave birth to her third child after going into labor five weeks early, her first with husband of one year Jeremy Calvert. Even though it was a scary time, everything turned out fine, and now Leah and Jeremy have shared their first photo of their baby daughter Adalynn Faith Calvert* with US Weekly.
20-year-old Leah instantly fell in love with the newest addition to her family. She told US Weekly: We were amazed — she was just so beautiful. She reached out and grabbed hold of Jeremy's little finger. It was very emotional."
Addalynn's three-year-old older sisters Aliannah and Aleeah dove right into their big sis roles, possibly too much! "They were trying to pick her up and carry her around. We had to put a stop to that! I think they get the concept now," Leah says.
CLICK HERE to see more details about the birth.
*Although reports, including the US Weekly report with the first photo, have said the baby's name is spelled "Addalynn" with two Ds, the correct spelling is "Adalynn."