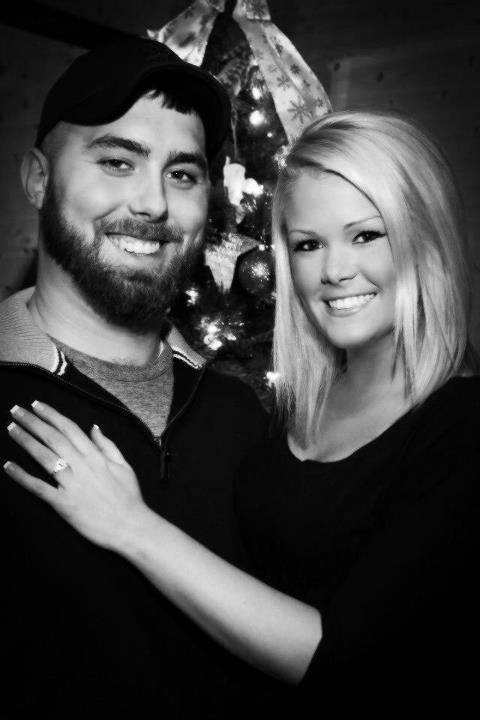 It may be hard for viewers of Teen Mom 2 to believe as we follow Leah Messer and Corey Simms on their emotional roller coaster ride ending in divorce, but these current episodes were filmed more than a year ago and both Leah and Corey have moved on and are in stable new relationships. Leah is remarried to Jeremy Calvert and ***SPOILER ALERT*** expecting another child, and it appears that Corey is following close in her footsteps by proposing to his girlfriend of more than six months, Miranda Patterson!
The happy annuncement came via Corey's dad Jeff Simms, who tweeted earlier today, "Corey and Miranda are now engaged! Congratulations! @CoreySimms2 @mirandabridget #happytweet" along with the photo above. But, it appears as though the proposal actually went down a little sooner because Jeff shared this foreshadowing tweet on Thursday: "What a great day for the Simms family! #blessed"
The happy couple even shared a Christmas family photo with Corey and Leah's daughters Ali and Aleeah: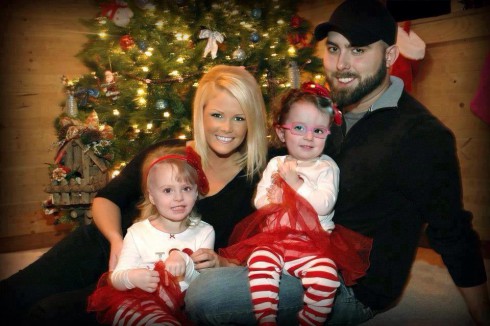 Wow! Miranda even managed to get Corey to wear a formal black ball cap for the picture! 😉
So how is Leah taking the news? Pretty damn well it seems! She retweeted this congratulatory message from a fan: "congrats to @CoreySimms2 & @mirandabridget on their engagement! now #AliAleeah have 4 wonderful parents! @TM2LeahDawn & @Calvert505 <3"
UPDATE – The Leah and Jeremy's Facebook page just made a wall post with this statement from Leah on Miranda: "She's wonderful to my daughters, and that makes me adore & respect her. As Coreys soon to be wife, and Ali and Aleeahs step Mom!"
Leah and Corey are actually getting along great now, with Corey and Leah's husband Jeremy Calvert often acting like best buds. And Miranda seems to be fitting in well with both Corey's family, the girls, and Leah. In a response to an angry tweeter claiming that her and Corey's children were suffering because of their break up, Leah responded by writing, "our children are so Happy! They love their step dad and they love Miranda! Corey and I do a fantastic job at raising"
Congratulations to Miranda and Corey on the big announcement! Want to know a little bit more about the future Mrs. Simms? Check out our profile post on Officer Miranda Patterson. (Yep, she's a police woman y'all! Corey did perty good it seems!)