Earlier today, Complex magazine released a series of photos from their new cover story and interview with Khloe Kardashian featuring the reality starlet looking amazingly fandamtabulous while working out in a series of decrepit, Detroit-style interiors. The eye- and outfit-popping pics garnered a huge response online, and of course, a large number of those were people saying the images were heavily Photoshopped.
Khloe seemed angered by the Photoshop accusations, and she took to Facebook to share before-and-after pictures featuring an unretouched photo from the shoot:
"This one is for all the troll haters out there that cannot seem to give me an ounce of credit for my daily workouts!" Khloe captioned the photos. "The image on the left is an unretouched photo from the actual camera on the day of the shoot. The image on the right is the retouched photo. Yes skin is smooth and shadows are removed but I still think I look good on the left image. Flaws and all ?❤? " She added, "hi hater!!! Click on it… I know you want to ? "
Before the troll haters suited up for battle, Khloe was EXTREMELY excited about the photos and the article. She shared the cover image and wrote, "Seriously I can't believe this shoot I did for @complex!!! I'm still blown away by how talented @stevengomillion is!!! Shout out to my glam team @1maryphillips and @cesar4styles. @monicarosestyle you always know how to make me feel so comfortable on set!! You are my security blanket!! I love you all madly! Check out the article at http://trib.al/sl3Mrey"
Thankfully, Khloe's angry response drew a huge positive outpouring of support from her fans:
How sweet are you guys! I love you guys and I see all the positivity and love! I'm so blessed??????❤️

— Khloé (@khloekardashian) July 27, 2015
She later thanked her sister Kim Kardashian for convincing her to do the shoot. "I have to shout out and thank my incredibly supportive sister @kimkardashian for forcing me to do this complex shoot," she tweeted, adding, "I have been procrastinating it because I was too scared to do the shoot! But Kimberly made me and had more confidence in me then I had myself!! I love you Keeks!"
Complex also shared a behind-the-scenes video from the photo shoot in which Khloe looks just as great as she does in the photos! Check it out:
Granted, video can be edited too, but it is a lot more involved, and I think you can tell from the clip and these stills that there hasn't been much heavy-handed manipulation outside of levels, filters, etc.: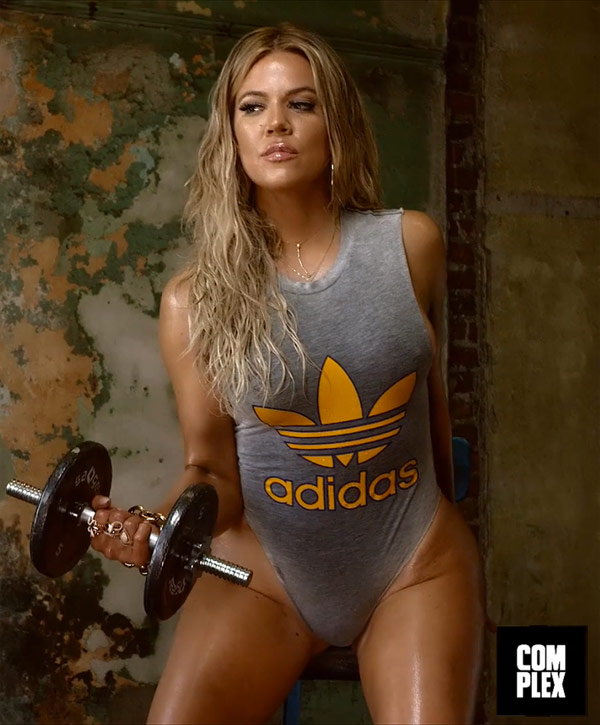 All I have to say is KUDOS KHLOE! Great job with the workouts, and we, for one, are giving you TONS of credit. 🙂
Oh, and the Complex article also features a lengthy interview with Khloe in which she talks about all kinds of subjects like Caitlyn Jenner's transformation, Lamar Odom, French Montana, her feud with Amber Rose, Scott Disick, and Kylie Jenner's relationship with Tyga. Here are some excerpts:
The most controversial [Twitter outburst] was your spat with Amber Rose. Do you think you s|ut-shamed her?

I just feel like it was unnecessary for her to say anything, and I used her own quote back. It was from her talking about when she became a stripper so I'm like, "How are you judging and saying Kylie should have a curfew?" What I thought was crazy was she was telling my sister to act a certain way or have a curfew, but [she wasn't] doing the same. So just don't comment. How was I slut-shaming by saying don't throw stones at glass houses? There was no slut-shaming. I am not one to slut-shame, I have done slutty behavior myself.

Do you feel that the criticisms of Kylie and Tyga's relationship are fair?

I think at 16 I was probably fucking someone that was in their 20s, for sure. I wouldn't say I was even dating, probably just sleeping with them. But again Kylie is not a normal 17-year-old. You're not gonna say, "Hey, so what are you doing this weekend?" and have her say, "Having a slumber party at my girlfriend's," or "Going to prom." That's not what Kylie does. Kylie is taking business meetings and bought her first house, or she's going on a private plane with Karl Lagerfeld to take a meeting. That's not even what people do in their 30s. It's a rare circumstance, so let's treat this as a special case.

During the [About Bruce] specials, you took the announcement of his transition the hardest, but it seemed to be because you felt out of the loop.

None of us ever knew about his transition, and that's what got confusing on the special. He spoke to us about six months prior and said that he's always dressed up in women's clothing. We used to find them. I just never told my mom because…we all didn't know. There were always rumors that he was a crossdresser back in the '80s. That was a different time; we didn't know if it was some Studio 54 thing. But he never said he was transitioning. In his soul, I think he knew. He's been the most amazing parent to any of us. When my dad was alive, we would pray for [Bruce] and say how great it is to have a stepdad who loves us like we're his own kids. [Bruce and I] are the closest out of the Kardashian kids. I think what hurt me the most was that we as a family wanted to be a part of his transitioning. I could imagine that it's so lonely. Don't you want people to support you and be there with you? But then I don't know if that's a selfish request.

You've become closer to Scott [Disick] over the years, too.

We're sleeping together, apparently. But yeah, we're the best of friends, but what's crazy is how much I hated him before. Overall I love his progression and growth. You can't deny how much he loves Kourtney, and I do think he tries. We're very much involved in each other's lives.
To read more about what Khloe has to say about Kylie, Caitlyn and More, check out the August/September 2015 issue of Complex, or hop on over to Complex.com! (I highly recommend clicking on the link because they have the interview and photos formatted in a very innovative way that makes for a really great reading experience!)
Photos: Complex / Facebook