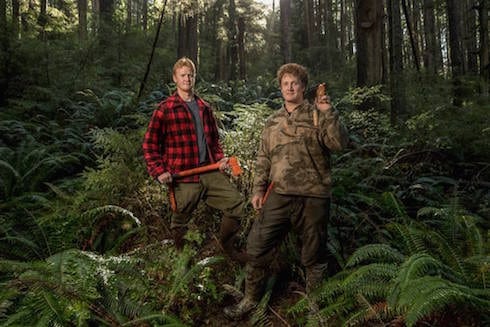 It's been a long and somewhat controversial fourth season for History's Alone, which upped its own stakes by undercutting the show's original premise and allowing survivors to buddy up. The resulting footage featured seven teams–or fourteen cast members, several more than the usual compliment–dealing with a host of different issues. As usual, medical evacs were standard–two of the first three teams to tap out had to do so for medical reasons–and over half the original crew was gone by the two-week mark. Viewers were left with the exploits of husband-and-wife team Brooke and Dave Whipple; Pete Brockdorff and his son Sam; and Jim and Ted, the Baird brothers of Canadian lore.
***SPOILER ALERT: This is where you should tap out if you haven't seen the finale yet***
So: Who won Alone Season 4? Though the Whipples made it an impressive seven weeks, it all came down to the Brockdoffs and the Bairds. And when Pete and Sam tapped after 74 days, it was Jim and Ted Baird who found themselves the winners of the show's first non-alone Alone competition. (On a related note, it's been a good year for Canadians on the show: Megan Hanacek lasted 78 days on season 3–a total that would have won her the competition in any other year–finishing in an impressive third place.)
Jim spent the night of the finale liking congratulatory messages and chatting with fans on Facebook. You can check out the thread here; among the interesting details he shared are that he spent a grand total of 145 days "under canvas" last year, and only a little over half of those came while filming for the show. And, of course, more than one fan wanted to know what he and Ted ate for their first meal back. Unfortunately, the answer isn't quite gluttonous: "We couldn't stomach any real food even though we desperately wanted to," Jim said. "All I could eat was a piece of toast and a handful of grapes."
Congrats to Jim and Ted–and double congrats to Ted, who earlier this month got engaged to his girlfriend after 10 years of dating! If you want to relive the finale (or if you missed it but read to this point in the article because you couldn't stand the suspense any longer), you can stream it here.
(Photo credits: Who won Alone Season 4 via History)