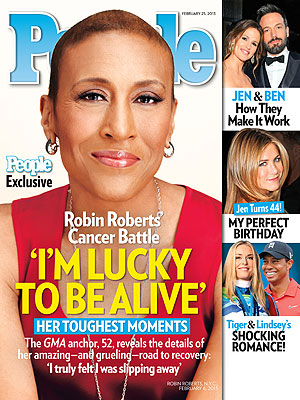 Good Morning America host Robin Roberts has been through a lot the past year as she dealt with treatment for a rare blood and bone marrow disease brought on by her breast cancer treatments a few years ago.
Now she's fully on the mend from a bone marrow transplant, and is set to come back to our television screens February 20th. Even though she's feeling healthier and more energetic now, it's been a tough road for the morning show anchor. Bone marrow transplants are harrowing procedures that don't always work. Robin opens up to People Magazine about feeling like she might not make it those first few days.
She says there was a point "where I felt like I was dying . . .I was in a coma-like state. I truly felt I was slipping away … then I kept hearing my name."
Thankfully she moved past that rough patch, and has found herself getting stronger every day in the five months since her transplant.
Can't wait to be back Feb 20th to thank everyone for their prayers & support. Heading to the beach to rest, reflect & count my blessings. XO

— Robin Roberts (@RobinRoberts) February 7, 2013
Can't wait for Robin to return to GMA. She's always like a ray of sunshine.