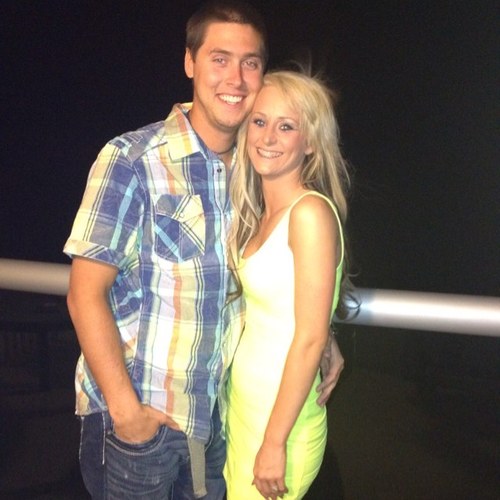 Congratulations to Teen Mom 2 star Leah Calvert and her husband Jeremy Calvert because In Touch is reporting the couple gave birth to a baby girl this morning!
"Leah gave birth in the early hours of this morning (Feb. 4) to a beautiful baby girl," says a close family friend. "Mother and baby are happy and healthy. Leah went into labor late last night, and the baby was born this morning."
Many fans thought the birth may be imminent after Leah tweeted "Yes, the time is near… Can't wait to meet you little Miss Calvert !" on Sunday. Leah's mom Dawn Spears later tweeted "Leah is at home and NOT in labor," (this information was also posted on Leah's official Facebook Page at this time) but that was 16 hours ago! The most recent tweet from either Leah, Jeremy, or Momma Dawn was 15 hours ago, which would seem right if Leah did go into labor.
We're trying to confirm the birth and will update as soon as we do. Until then, let's assume it happened and say…
CONGRATS LEAH AND JEREMY!
And great timing, given that tonight is the Season 3 finale for Teen Mom 2 🙂
UPDATE – US magazine has since confirmed the birth. All is still quite from Leah and her family. It is assumed they have sold the story to a tabloid and the extended time without word is simply because of the timing — Leah gave birth on Monday and usually the deadline for print stories is the weekend. If that's the case, we should hear work Monday or Tuesday about which tabloid got the story.