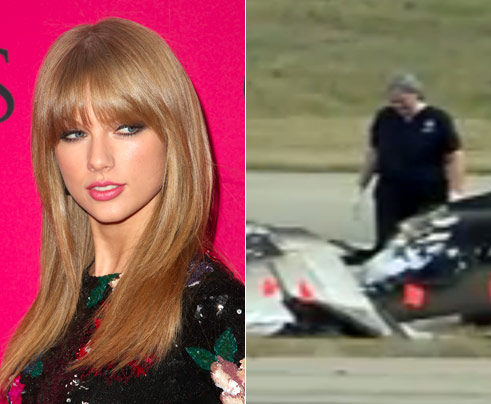 The mysterious last flight of 45-year-old Canadian Michael Callan still has investigators at a loss as there appears to have been a total breakdown of the systems in place to detect, and possibly prevent, this type of situation. Now it's being revealed 3 weeks after the fatal crash of his small plane that Callan had listed Taylor Swift as his next of kin.
Swift's publicist, Paula Erickson, wrote in an email response, "The first we heard of this was when the appropriate authorities contacted Taylor's management about the crash. Taylor does not know this person."
Callan flew undetected over the Canadian/U.S. border, turned his transponder off (or it possibly malfunctioned), circled the Nashville airport for nearly 2 1/2 hours without air traffic controllers being aware of his presence, attempted to land unsuccessfully in a dense fog and crashed — where the wreckage of the Cessna 172R remained unnoticed on Nashville's Runway 2C for as long as seven hours.
His original flight plan had him listed to fly to Pelee Island, a location only around 100 kilometers from his place of departure. The path to Nashville took him hundreds of miles from that course.
David Gillies, the president of the flying club that owned the plane Callan flew, told The Tennessean in a phone interview that he had been contacted by Callan's two sisters and they requested that he not discuss Michael's extremely mysterious demise. Gillian noted that Callan's sisters are, "his next of kin." "They asked me not to comment, and I'm going to respect that. They want to bring their brother home and bury him."
The NTSB is currently investigating the numerous unknowns in regards to the accident, a process that could take up to 6 months. It could be a year until results of the report are released.
Image: Bridow/WENN.com | The Tennessean