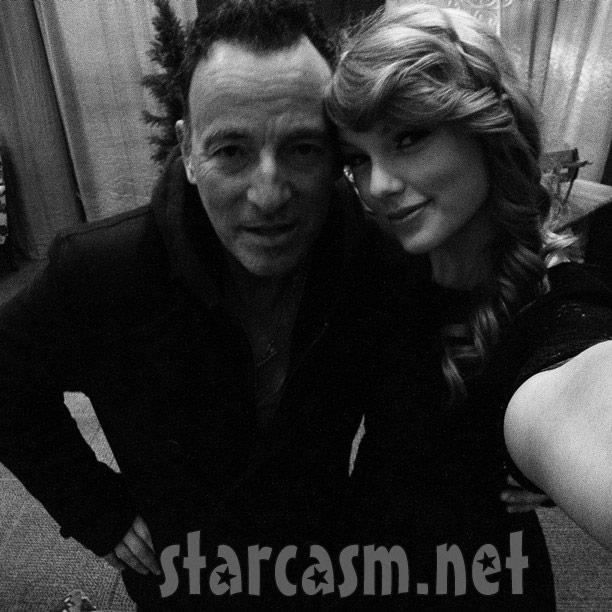 Last night Taylor Swift dominated the AMA Awards taking home the big cheese of Artist of the Year among many other trophies but that pales to getting to hang with none other that Bruce Springsteen backstage!
Yes, as if we needed further proof that it's Taylor's world and we're just living in it she posted the above jealousy inducing image to her official website with the caption, "I'll never forget when Bruce Springsteen played 'Dancing in the Dark' backstage at my show on my guitar, then signed it. Such a beautiful night in Raleigh."
In addition to her living out my personal fantasy she used a lyric from Springsteen's classic song "No Surrender" as her arm art for that evening's performance in Raleigh. Her arm read. "We learned more from a 3 minute record baby than we ever learned in school." You can check out a great image of that here.
Other than perhaps making wife Patti Scalfia just a tad jealous the Boss has sent his fan base into the stratosphere by verifying that he will indeed be touring in 2012 and that the tour will be……
Backing up a brand spanking new Springsteen album!
Here was Bruce's official statement via the second best .net site on the interwebs, brucespringsteen.net.
Well, things are starting to heat up down on E Street.

A lot of you have been hearing that Bruce Springsteen and the E Street Band will be on tour in 2012. That is absolutely correct. The European dates run from the middle of May until end of July and are being announced this week. Info on the US dates and the World tour dates will coming up shortly.

In addition, we want you to know that the music is almost done (but still untitled), we have almost settled on the release date (but not quite yet), and that we are all incredibly excited about everything that we're planning for 2012. That's all the info we have for right now, but we'll get back to you–real soon.
In addition the man child hit us with a double shot by announcing the first confirmed dates of this world tour:
Date
City
Venue
On Sale
21 June
Sunderland, England
Stadium of Light
3 Dec
22 June
Manchester, England
Etihad Stadium
TBA
24 June
Isle of Wight, England
Isle of Wight Festival
25 Nov
14 July
London, England
Hard Rock Calling
3 Dec
That is awesome news but I think we'll all be pensive the first time the mighty E Street Band takes that stage without the late and larger than life Clarence Clemons who passed away earlier this year.
Many great younger artists, hey not that much younger Bossman, have been giving their props to the best guitar player from Asbury Park, New Jersey in a killer video series called Hanging on E Street. I'll leave you with this sincerely bad ass version of "Glory Days" as performed by The Avett Brothers who are from North Carolina where this Swift/Springsteen meeting across the river took place:
Glory days haven't come close to passing Mr. Springsteen by.