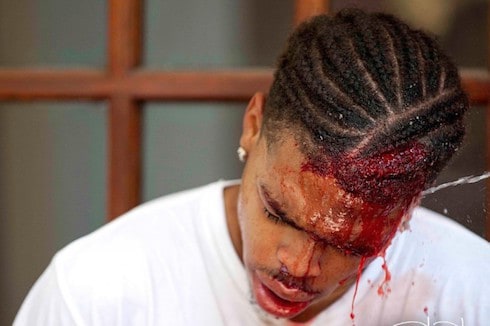 One of the many images to go viral during this weekend's "Unite the Right" white supremacist rally in Charlottesville VA is that of 20-year-old Charlottesville victim Deandre Harris being beaten by a group of neo-Nazis in a parking garage. Harris, seen above in the immediate aftermath of the attack, says he and several friends were "rushed" by their attackers, and Harris quickly found himself separated from the rest of his group.
"Me and about five of my friends were out protesting. We thought [the racists] left, but at one point they came back," he told The Root shortly after being attacked. "Everyone was exchanging words with the group, but then the KKK and white supremacists just rushed us….They were beating me with poles. I have eight staples in my head, a broken wrist and a chipped tooth."
Earlier in a parking garage in #Charlottesville – white supremacists beat this black kid w/poles. [Photo for by @zdroberts @NationofChange] pic.twitter.com/LLPBPjb8si

— Zach D Roberts (@zdroberts) August 12, 2017
Fortunately, some of Harris' friends, along with several onlookers, were able to fights the neo-Nazis off. The task fell to them, Harris says, because no police intervened–despite the fact that the parking garage where he was attacked is near the Charlottesville Police Department. (Based on the photo above and the video below, it looks like Harris was beaten inside the entrance to the East Market Street parking garage in downtown Charlottesville, which is indeed next door to a police station.)
"The beating happened right beside the police department, and no police were there to help me at all. My mother is now thinking about suing the city of Charlottesville," Harris said.
Fight broke out. Nazis beat black kid w/sticks at end. I kick one in back 2 help & he runs after me. Kid is safe but bloody #Charlottesville pic.twitter.com/kr11a8zQ0K

— ChuckModi (@ChuckModi1) August 12, 2017
Harris also expressed disbelief that the white supremacist rally had been permitted in the first place. "I think for them to be allowed to come here and protest is really crazy. How do you expect the KKK to come to your city to protest, and them not be violent?" he said. "I understand everyone is entitled to their freedom of speech, but the government and the mayor made a bad business move. It's only caused havoc in your own city. It's crazier that people have the hatred in their heart to want to kill black people."
Following the attack, Harris' family set up a GoFundMe to help defray the cost of his medical expenses. The page reached its $50,000 goal and topped out at $106,534 before the family turned off the option to donate. (You can still view the page here.)
(Photo credits: Charlottesville victim Deandre Harris via GoFundMe, Twitter)