For fans of the greatest post-Michael Scott sitcom on television, this image could be cause for great concern as it would seem to indicate our country's most rugged lip-broomed Libertarian has once again succumbed to the devilish wiles of Tammy number 2. But, relax all ye fellow fans of Parks and Recreation, Ron Swanson is still the single boat-building, bureaucracy-hating stoic we have all grown to love and admire, this is merely his slightly less Swansontastic real life counterpart, actor Nick Offerman and his real life wife, actress Megan Mullally.
Whew! That's a relief! I thought we might have been in for Ron and Tammy 2 Part 3! And we all remember what Part 2 was like:
(I confess I hadn't actually seen that clip before starting this post and damn it was even funnier than I thought it would be! On a side note, Ron's self-destructive attraction to Tammy 2 – his first wife was also named Tammy, as was his mother btw – reminds me of my own dangerous attraction to Jersey Shore's JWoww, although I'm guessing one night with JWoww wouldn't leave me in jail with corn rows but unconscious in an alley somewhere.)
Let's compare real life with fiction shall we?
Amazing. The "real life" couple of Nick Offerman and Megan Mullally were photographed together at the 2011 UNICEF Ball Presented by Baccarat in Beverly Hills, California last night. Megan looks downright elegant and completely non-Tammy Swanson-like, but Nick looks just like I would imagine a tuxedoed Ron Swanson would look at a UNICEF charity event.
What's that? Not familiar with Ron Swanson? Well you better get familiar because there is a very good chance he will be the next President of the United States!
Here is a great campaign video that introduces you to Ron Swanson's view on everything from local government to fishing:
And for those of you more inclined to learn from a still image, here is the infamous Ron Swanson's Pyramid of Greatness in all fo it's wisdom-imparting glory:
Click to enlarge the photo and embiggin your greatness: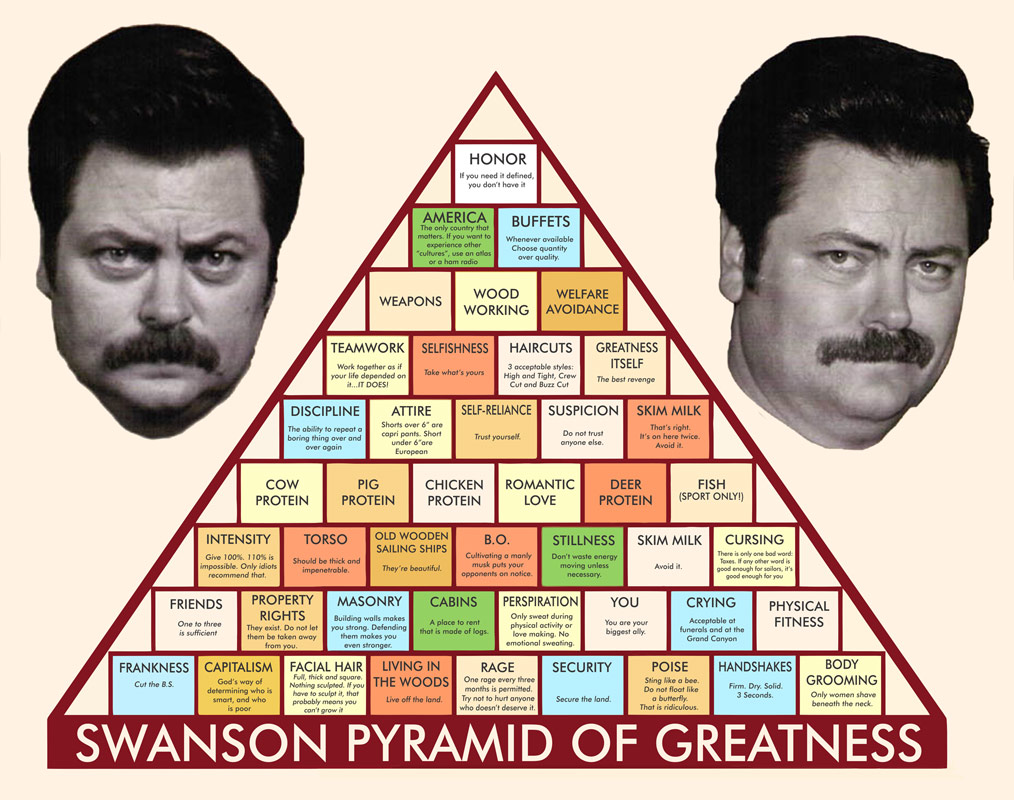 UNICEF Ball photos: Veronica Summers / Splash News