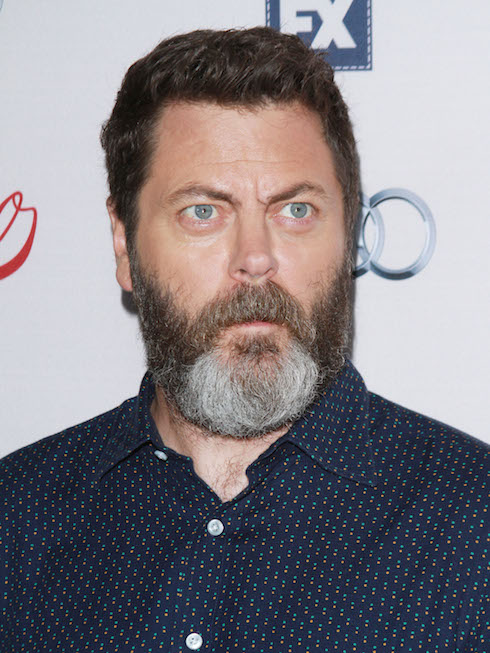 Lagavulin Scotch Whisky's Nick Offerman Yule Log video is making the viral rounds today, as its simple, delightful premise tickles revelers the world over. You know those videos of a fire burning in a fireplace–the ones you put on when you don't have a fireplace, in order to simulate a warm, holiday feeling for the officemates who came to your Christmas party? The Nick Offerman Yule Log video is exactly that, except that it also features the Parks and Recreation and Fargo star sitting in a leather chair next to the fireplace, sipping from a glass of satisfying Lagavulin single-malt whisky.
(In case you're late to this particular party: No, Lagavulin was not a made-up alcohol that Ron Swanson loved; it is a real brand. It is damn tasty, and goes well with any holiday meal, regardless of the food being served or your own religious preferences.)
The video is the first in Lagavulin's "My Tales of Whisky" series. As it is an official video, it isn't technically viral; however, its popularity over the past 24 hours has exploded such that it merits inclusion in the viral category. Why is it so popular? Because it's a 45-minute case of the fuzzies.
So, before you go out to the nearest liquor store to snatch up one of Scotland's finest exports, behold–the 45-minute Nick Offerman Yule Log video:
Speaking of the Christmas season, Offerman's impressive beard means he could play a young, disgruntled Santa–one who comes to understand the true meaning of Christmas thanks to a cadre of soot-faced orphans and a team of cigar-smoking flying bears–with just a few more weeks' growth. Netflix, if you're looking for a new holiday special to produce in 2016, take note.
And, in case you were wondering, the text on the front page of "My Tales of Whisky" reads as follows:
As the sun went down there was a need for warmth and light. And that, my friends, could only mean one thing: a little time by a crackling fire. Please do enjoy it will you, the soothing sounds of blazing heat in its most primal form. What more could one ask for…
Other than Nick Offerman bringing the whisky and sipping it silently beside you? What more indeed, my friend. What more indeed.
(Photo credits: Nick Offerman Yule Log video via Adriana M. Barraza / WENN.com)