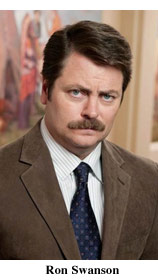 Although The Office's Robert California may eventually give him a run for his money, there is no cooler dude on television right now than Parks and Recreation's resident libertarian meat lover Ron Swanson, played by actor Nick Offerman.
This glorious lip-broomed anti-government government employee is the modern version of Catch 22's Major Major Major in his office life (Yes, you can make an appointment to see him, but only if he's not there) and in his personal life he is the rugged outdoorsman equivalent to Dos Equis' The Most Interesting Man in the World.
But, long before he became the testestersuave boss of Leslie Knope, Nick Offerman was a not-so-anti-establishmentarian member of the Student Government Association at Minooka High School in Illinois!
These photos were sent to uproxx.com by someone whose co-worker went to school with Ron Swanson… errr, Nick Offerman and they show a rather dapper looking young man. The yearbook is from 1986/87 and features Nick in a toga and in a bad rascal denim jacket.
The person who sent the photos to uproxx said his co-worker wasn't friends with Nick, "but everyone at school knew who Nick was. He was popular, a very nice guy and in every school play."
And just in case you had any further doubts that Nick Offerman the man isn't anything like his mythical Rob Swanson character, check out this brief interview with David Letterman in which he talks about his mad woodworking skillz:
Oh, and did I mention he's married to actress Megan Mullally who plays Ron's ex-wife Tammy "Tammy II" Swanson on Parks and Recreation?
I'm hungry for steak. Later.