Here's your first look at Gossip Girl actor Penn Badgley as singer Jeff Buckley in the film Greetings from Tim Buckley, currently shooting in Brooklyn. The project is one of three Jeff Buckley movies currently in the works and focuses on the moments leading up to Jeff's break-through performance at a tribute concert to his father, Tim Buckley.
In the photos Penn Badgley looks the part of a brooding young singer/songwriter as he introspectively struts the streets of New York. Here's a nice album-cover-worthy, zoomed-in shot:
What do you think? Will Penn be able to make the transition from Gossip Girl heartthrob Dan Humphrey to melancholy musical prodigy Jeff Buckley? Here's a little side-by-side visual to help make up your mind:
Photographed with Penn Badgley on set was Greetings from Tim Buckley co-star (And starcasm fave) Imogen Poots, who plays a young woman working at the Tim Buckley tribute concert who gets caught up in a four-day emotional whirlwind with Jeff Buckley just prior to the show.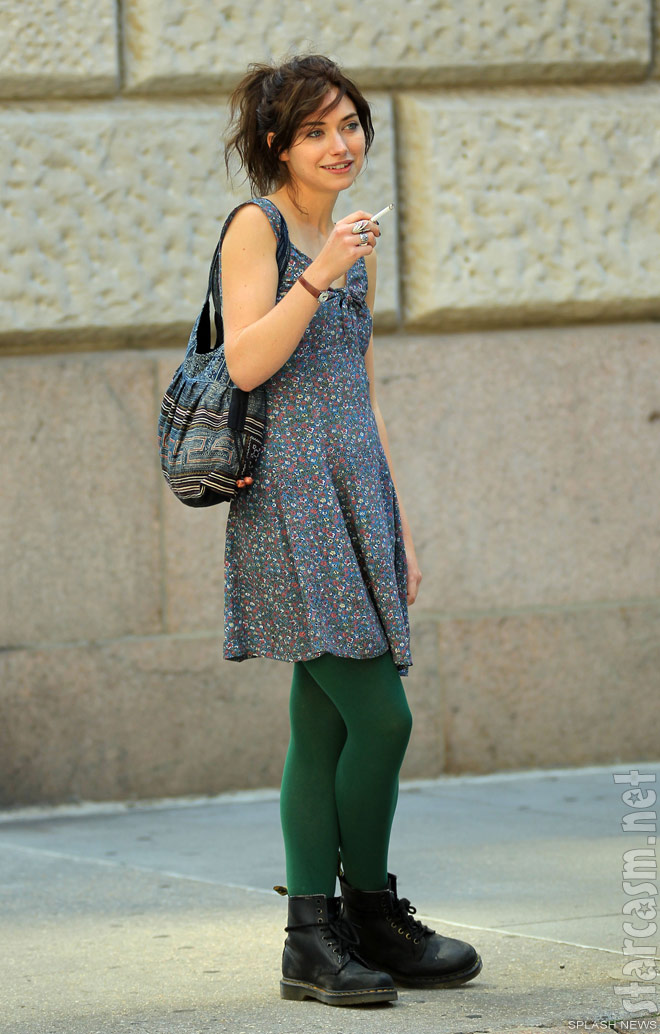 Imogen was rocking her frumpy hipster look complete with bad posture, dark hair, green tights, black combat boots and a cigarette. But don't think Imogen's character is terminally melancholy – here she is flashing her million-dollar life-altering smile:
Now, let's just edit out the superfluous elements of the photograph's composition…
I'm already sold on this film – just being with Imogen Poots for four days could turn anyone into Jeff Buckley! As a matter of fact, I wrote four songs while staring at that photo!
The other Jeff Buckley film projects in the works include the "official" biopic featuring Spider-Man: Turn Off the Dark star Reeve Carney and directed by Welcome to the Riley's Jake Scott. It is the only one of the projects that has a license to use Jeff Buckley's actual recordings and should be the highest profile film of the three.
The third Jeff Buckley movie in the works is titled A Pure Drop and is based on the book A Pure Drop: The Life of Jeff Buckley. It will be directed by Australia's Brendan Fletcher. None of the cast have been announced for this project yet.