NOOOOOOOOOOO!!!!! Tell me it isn't so!
TMZ is reporting that The Real Housewives of Beverly Hills couple Adrienne Maloof and Dr. Paul Nassif are splitting up with Paul planning to file for legal separation early this week. Radar Online confirms the report with sources of their own, one of which says the difficulties of taping Season 3 may have pushed them over the edge.
"There is no other person. It's for a variety of reasons that they are contemplating separation. Adrienne was dragged through the dirt during filming of the upcoming season, and it really wore on her. Paul and Adrienne have always fought, it's how they were as a couple. However, at this point, they realize that they are just want very different things, and neither one of them is happy in the marriage," the insider says.
But all of us Paulienne fans have a glimmer of hope according to another source.
"Neither one is ready to pull the plug and file for divorce, they are trying to figure out the best way to deal with this, and there is a lot of love between Paul and Adrienne. If they didn't love each other as much as they do, either one would just walk away without looking back. They aren't at that stage yet, and are discussing a separation."
As we reported earlier, Adrienne Maloof skipped out on the cast's trip to Paris earlier this month, and was also in such a heated feud with cast mate Brandi Glanville that lawyers were reportedly brought in. Bravo is reportedly scheduled to fil the Reunion Special Monday night. "Adrienne might not even go because of all the issues going on in her personal life," Radar Online's source says. "Adrienne is putting her family first, and she just doesn't know if she is ready to face the other women after everything that has transpired over this past season."
I know the divorce rate on these Housewives shows is through the roof, but I thought the Beverly Hills married ladies were set for life. I'm serrrrriously bummed out right now. If I have to watch Adrienne Maloof go on a date with a douchebag I think I'll cry — not to mention seeing Paul show up at Kyle's White Party with one of his much-younger, overwrought patients.
I'll leave you all with my favorite Paul and Adrienne photo. Caution: it does feature toplessness…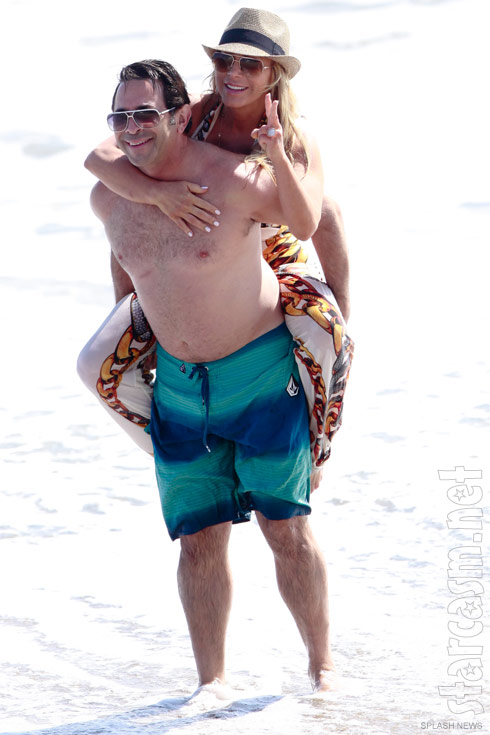 Top photo (Before it was torn in half): CL / NB / Splash News
Middle photo: Jen Lowery / Splash News
Bottom photo: Splash News