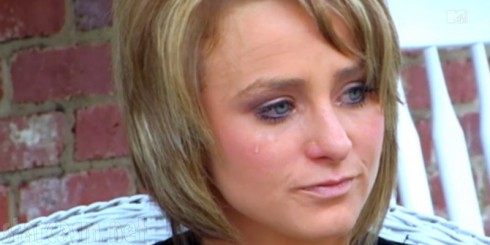 It's been one week since Teen Mom 2's Jeremy Calvert accused wife Leah Calvert of cheating on him with her ex-boyfriend Robbie Kidd and said he was going to file for divorce that day — yet, it seems papers still haven't been filed.
Officials from the Kanawha County Court and Roane County Court confirmed to us today that Jeremy has not filed for divorce from Leah in their counties, which cover Elkview and the Calverts' new town, Left Hand. He has a few more hours before the offices close for the weekend.
Although that makes it seem like there's a chance the Calverts will reconcile, Jeremy indicated yesterday that he has moved out of their new home and still believes Leah had an affair with Robbie: He posted a picture on Twitter of his dirt bike packed up in the back of his truck and taunted that Robbie "can't buy a big Mac."
After that, he retweeted a supportive message from a female fan who said any "woman would be lucky to have a hard working man like you." He also retweeted a message about "where there's smoke there's fire."
Meanwhile, Leah's been mostly silent on social media ever since earlier this week when sources came forward with claims she's addicted to painkillers. Her last tweet, posted on Wednesday, implies she's focused on peace and love…
— Leah D. Calvert (@TM2LeahDawn) October 23, 2014
Before that, she retweeted a message about potentially suing for defamation of character and harassment.