By now we've all heard the rumors, listened to the speculation, and made our own judgements about the status of Bruce Jenner's sexual identity. InTouch even photoshopped Bruce's face on a woman's body in an attempt to tell the story of his on going "change".
Outside the tabloids, the next season of Keeping Up with the Kardashians may bring Bruce's story to light– in his own words. But until then, Kim Kardashian is opening up about Bruce's personal journey.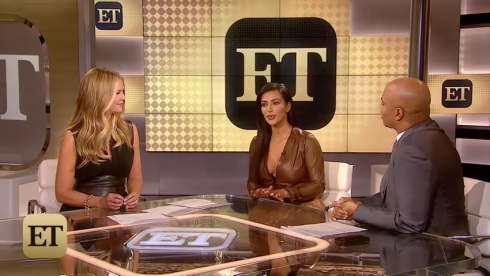 When questioned, Kim begins by saying, "We support Bruce no matter what. On this one, I will say that I think Bruce should tell his story his way."
Kim then elaborates on where Bruce is at today. "I think everyone goes through things in life, and I think that story and what Bruce is going through, I think he'll share whenever the time is right," she says. "I feel like that's his journey to talk about."
Her comments about Bruce begin at the :59 mark:
Hmmm… that sounds pretty intriguing to me. Whether or not his journey includes a gender change, it definitely sounds like Kim knows something we don't.
Do you think she's opening Pandora's box to Bruce's secret or is this just another PR interview to get people talking?