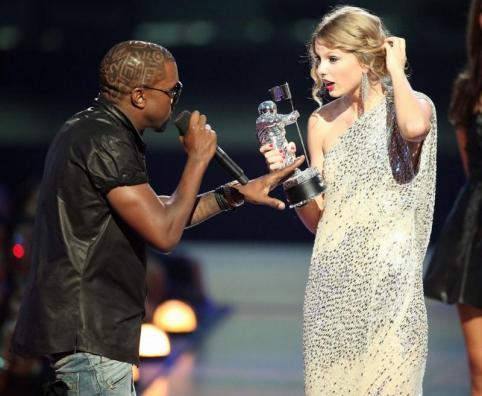 Those anxiously awaiting another earth shatteringly awkward moment from rapper Kanye West at the 2012 MTV Video Music Awards are going to have to wait another year because he has cancelled his appearance at the event due to the fact that his girlfriend Kim Kardashian won't be able to make it.
Kim Kardashian had a prior engagement in New York City tonight promoting her fragrance True Reflection at Lord & Taylor for Fashion's Night Out. A source tells the Daily Mail: "Kim's in New York for her fragrance launch and Kanye didn't want to go to the VMAs if she couldn't be there."
(That slight sound of air releasing you hear is Taylor Swift relaxing.)
The announcement comes just hours before the hippest shindig on the planet is set to go live at 9/8c, and has to come as a huge surprise tot he network who used Kanye in their marketing campaign for the VMAs:
Kanye was not scheduled to perform at the VMAs this year, although his song "Mercy" featuring Pusha T, Big Sean & 2 Chainz is up for Best Hip-Hop Video and Best Editing.
Maybe this is all just a publicity stunt for Kanye West's new album VMA Dropout?