A&E's reality series Storage Wars has become a huge success for the network, bringing in close to 5 million viewers per episode last season. Of course part of the success of the show is watching people gamble on abandoned storage units and being able to share in the discovery process, but a larger part of the success is the wonderful cast of characters!
There's the rock star eccentric Barry Weiss, sitcom couple Jarrod Schulz and Brandi Passante, and the fun-to-hate villain Dave Hester. But let's not forget the show's sh*t stirrer extraordinaire! Yuuuuuup, I'm talking about the tanktop-loving smack talker Darrell Sheets!
But you ladies out there shouldn't let yourselves get too worked up over this biker physiqued manly man because "The Gambler" is taken. That's right, Darrell Sheets is engaged.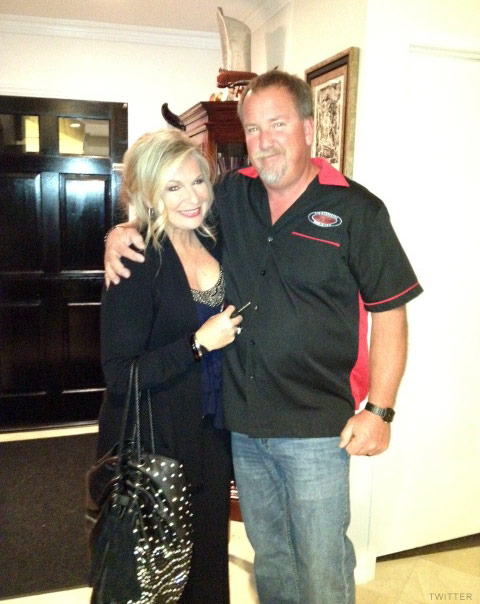 If you thought Darrell was good at finding valuable items hidden in boxes and trunks in abandoned storage lockers, you haven't seen nothing yet because Darrell found the real deal "wow factor" in the form of his blonde babilicious significant other Kimber Wuerfel, a successful real estate agent in the highly competitive Orange County, California area.
And just in case you were thinking Darrell's over-the-top aggressiveness is just a show for the cameras, the story of how he and Kimber met should set the record straight. From The O.C. Register:
[Kimber] says a year ago as she was driving on the 55 and 91 interchange, Sheets drove up next to her. The two exchanged glances; he followed her for a while before writing his phone number on paper and holding it up to his car window. She called, they spoke, and the rest is history.
So who is this Kimber Howell Wuerfel? Here's her "About Me" from her real estate website:
Kimber is a native of Southern California. Born and raised in Orange County California. She spent her childhood playing on the sandy beaches of Laguna. Her Knowledge and real understanding of the Beach Cities is evident in her ability to locate and perfectly match real estate with her client's request. Kimber has a background in Construction. She and her mother owned and operated a construction company throughout the 1980's and early 1990's. Kimber has a great understanding and appreciation of the value of Orange County, California's "dirt". She is a great believer in the benefits of owning and holding Southern California real estate. She has witnessed firsthand the benefits of owning and developing the precious little bit of land that is left in Southern California's coastal communities.
She began her real estate career as a "buyer's agent", focusing primarily on the needs of the buyer. She became the company's number one buyer's agent, closing an unprecedented 60 plus transactions on the buyer's side, during her first year in business. She's been invited to speak as a guest speaker and trainer to Real Estate agents throughout Southern California. Several hundred agents at a time have traveled to hear Kimber's success story and listen to her speak about exactly how she manages to help each and every client locate and obtain precisely the real estate they are looking for.
Kimber's energy and enthusiasm are contagious. She has a "tell it like it is" approach that keeps her clients well informed. Her experience and hard work have paved the road for her continued success. She is a problem solver by nature; her keen mind is always looking for a better way to serve her clients. If you plan to invest in the coastal communities of Southern California, Kimber is a key resource.
Kimber isn't just Darrell's romantic partner though, she's also helping him out with his business as well, which now includes a 4,300-square-foot warehouse in Huntington Beach, a website (which Kimber built), and a line of apparel. Darrell has even relocated from San Diego to Huntington Beach to be with Kimber.
Congratulations to Darrell! I think the best way to sum up his good fortune is to say Kimber is a million dollar bill all day long!
You can keep up with Darrell and Kimber through these links:
Darrell Sheet's Facebook page
Darrell Sheet's Storage Wars Fan Club Facebook page
Kimber Wuerfel's Facebook page
Darrell Sheet's Twitter
Kimber Wuerfel's Twitter
Darrell Sheet's website
Kimber Wuerfel's website
And one last parting shot with yet another silly caption:

^ Darrell Sheets and fiancee Kimber share a Kiss