Former Teen Mom star Farrah Abraham has become quite the hot commodity since the release of her "private" sex tape with hired gun James Deen. As you might expect from someone inexperienced at juggling a busy schedule, Farrah appears to have overextended herself by scheduling multiple personal appearances today.
That may not seem so bad, but one of her scheduled personal appearances is in Douglas County Court in Nebraska where her DUI trial was scheduled to begin this afternoon! Meanwhile, Farrah is in Florida where she will be signing autographs and posing for photos with fans at Exxotica expo — and after that she will be celebrating her 22nd birthday by hosting an Exxxotica after party at Passion Nightclub. (Something tells me a judge isn't going to be to eager to issue a continuance when the defendant's excuse for not attending her DUI trial is because she's in another state hosting a birthday bash at a nightclub.)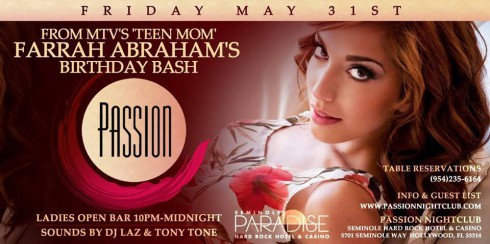 Farrah seemed to hint at the potential result of blowing off the court date with this tweet earlier today:
Omfg I'm going to #Jail today

— FarrahAbraham (@F1abraham) May 31, 2013
The DUI trial was for Farrah's much-publicized arrest on St. Patrick's Day. Her explanations for the arrest were pure Abraham confusion as she admitted to driving after drinking but not drinking and driving. She went on to publicly berate the officer who arrested her and to have one of the more uncomfortable moments in Dr. Phil history (and that's saying a lot) as she attempted to explain her strange side of the story.
On April 29 Farrah's attorney entered a not guilty plea for the former reality and current adult film star and her trial date was set for today.
As soon as we hear what the judge decides to do about Farrah's failure to appear in court we'll update you!
UPDATE – It appears as though Farrah Abraham may have her own Dustin Sullivan type legal wizard because her court appearance today has just been changed from "Trial" to "Entry of Plea Hearing." I'm guessing she will be pleading guilty or no contest? (She's already plead not guilty, which is what lead to the trial in the first place.)
Farrah has responded to the change already on Twitter:
#NoJail The #Party Lives On:) #EXXXOTICA #FL @5:30-9pm & Party @passions #HardRock woooohooo:)Best Birthday EVER:)))) #22

— FarrahAbraham (@F1abraham) May 31, 2013